In this blog, We'll share with you two of the influencers' thoughts on our brand. And we will continue to update this series. You could know more about Neutriherbs in this series and get exclusive discount codes at the end of the article.
Vivian Hernandez From Mexico(@vivianhdezp)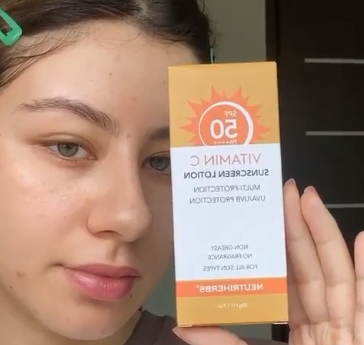 A: WHICH OF OUR PRODUCTS HAVE YOU USED?
Q: Suero de actualización de vitamina C y crema facial de vitamina C, y use su protector solar VC en casa.
( Vitamin C plus serum and vitamin C face cream, and use your VC sunscreen.)
Q: HOW DO YOU FEEL ABOUT USING OUR PRODUCTS?
A:Mi piel ha estado rara estas semanas, he tenido algunos brotes de acné y he decidido dejar de usar los productos que uso y comenzar con los productos de @neutriherbs que contienen vitamina C. Este conjunto de productos vc ayuda a aumentar la producción de colágeno, reduce los signos del envejecimiento o corrige las ojeras, mejora visiblemente mi signo del envejecimiento, mejora la textura de mi piel, no solo reafirma mi piel, la hidrata y la levanta al mismo tiempo. Ilumina mi piel.
( My skin has been weird these few weeks, I've had a few acne breakouts and I've decided to stop using the products I use and start with @neutriherbs products with vitamin C in them. This set of vc products helps boost collagen production, reduce signs of aging or correct dark circles, visibly improved my aging sign, improved my skin texture, not only firmed my skin, hydrated and lifted it at the same time. Brightened up my skin.)
A: Probé el protector solar VC SPF50 durante una semana y fue más que suficiente para el uso diario. A diferencia de los protectores solares que he usado antes, este tiene una textura muy refrescante y no es nada grasoso, y no es fácil quedarse pegado al maquillaje incluso después de usarlo. No solo la durabilidad es muy buena, sino que se mantiene firme en la cara incluso si sudas en verano.
( I tested VC sunscreen SPF50 for a week and it was more than enough for daily use. Unlike the sunscreens I've used before, this one has a very refreshing texture and is not greasy at all, and it's not easy to get stuck on makeup even after using it. Not only is the durability very good, but it stays firmly on the face even if you sweat in summer.)
Jessica From Canada (@yes.mex)
Q: WHERE DID YOU HEAR ABOUT OUR PRODUCT?
A:I sometimes swipe through your posts on INS before, no alcohol fragrance paraben added, no cruelty and friendly to the environment, it all sounded so appealing that I was happy when you invited me to test your products and thought, why not.
Q: HOW DO YOU FEEL ABOUT USING OUR PRODUCTS?
A: I have been trying your 24K Gold Series and Collagen Body Lotion for two weeks now and I really like your Gold Series. The gold in the Serum and Spray acts as a carrier to transport the active ingredients to the deeper layers of the skin.
The Lightweight and water-based formulas allow the products to be absorbed into the skin quickly, without being sticky at all, and achieve a good oil/water balance without affecting my makeup. It helps with anti-aging, reducing wrinkles and restoring skin elasticity while also hydrating my skin, which is noticeably more radiant than two weeks ago.
A:The collagen body lotion is also very good, my skin is smoother than before to touch, dry lines are gone, I really want to know how to do hydration so well at the same time can not do not greasy, quickly absorbed by the skin.
Although we are only a niche brand, we expect more people to know Neutriherbs, and we will invite more influencers on INS to try our products and share their ideas. If you are interested in becoming our trial user, please do not be hesitate to contact us on our INS account (@neutriherbs).
Exclusive Discount Code: NEU25 (for order over 99$)