In this blog, We'll share with you the influencers' thought about our NEW ARRIVALS - Neutriherbs Lighten Skin Series. And we will continue to update this series. You could know more about Neutriherbs in this series and get exclusive discount codes.
Join our pre-sale, place an pre-sale order with the discount code NEW30 could enjoy 30% off discount for Lighten SkinSeries.
NANDI TLADI From South Africa (INS ID: iamnandisa )
Q: CAN YOU SHARE THE FEELING OF USING OUR LIGHTEN SKIN CREAM AND LIGHTEN SKIN SERUM?
A: Of course! I've always suffered from uneven skin tone, so I was really happy to receive your invitation to test your new products! And I'm also happy to share my feeling. NEU's Lighten cream and serum both add the new whitening ingredient 377, which is an ingredient I've never tried before, and I'm always excited to try something new!
This cream smells great, the texture is not sticky or heavy, and it looks flesh-pink, like ice cream. It's lovely! And they seem to have added zinc dioxide in the Lighten cream - a physical sunscreen ingredient, so it's still recommended that you use it when you go out during the day, but be sure to protect yourself from the sun! This is not a substitute for sunscreen!
Their serum is also a new packaging, pump head press type, cleaner and more able to preserve the activity of the active ingredients. Unlike the usual transparent serum, this one is more inclined to the creamy texture. As long as it is well massaged and absorbed, it will not leave a sticky feeling at all.
Neutriherbs has upgraded this Lighten Series both in terms of packaging and formulation, focusing on safe and effective reduction of dark spots, pigmentation and uneven skin tone. Anyway, I love your Lighten Skin Line! I will keep using it!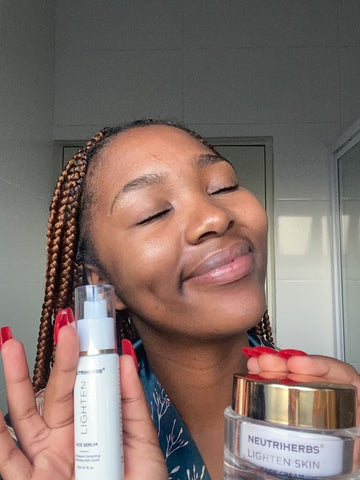 Afra Acquah From England (INS ID: afralicious_skin)
Q: WHICH OF OUR PRODUCTS HAVE YOU USED?
A:I have tested your Lighten Skin Cream, Serum and your Hyaluronic acid mask.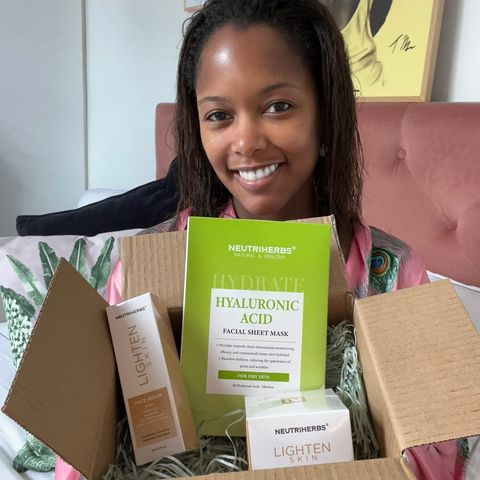 Q: CAN YOU SHARE THE PROCEDURE OF USING OUR NEW ARRIVALS - LIGHTEN SKIN CREAM AND SERUM?
A: Yes, I'd like to. I have bought your Jade Face Massage Tool before. So I put this jade roller in the freezer for a while beforehand, and I used it to reduce the swelling before applying cream and serum.
Usually I used the serum first. This serum has added 377 and niacinamide, so if you have hyperpigmentation, these brightening ingredients can help you lighten and reduce your spots very well in a gentle, non-abrasive way. This serum is a very lightweight silky texture that absorbs quickly and can be applied spot-on to dark spots or all over the face.
Then, I would use the Lighten Cream, which also has 377 whitening ingredients in it, it has lovely and subtle scent, is creamy texture, slight peachy color. I would apply a small amount evenly on the face. At first it may leave a white cast on the skin, but be patient and gently rub it in, it disappears when fully absorbed!
And then you could get a soft and radiant skin!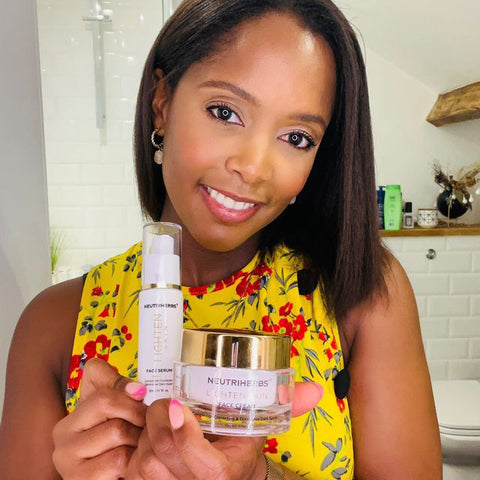 We look forward to more and more people joining us at Neutriherbs, using our products, and giving us more opinions. We want to challenge the industry standards for product formulation in our own way. Do you want to be one of us? Contact us!