While diving into the world of trendy skincare, you may have heard of an amazing term: niacinamide. Along with retinol and vitamin C, niacinamide is another notable ingredient, touted for its versatility and multiple uses. Little known, we reveal the secrets of this miracle vitamin.
First of all, niacinamide is a powerful stain remover. More than a strong antioxidant power, its capacities range from the reduction of dilated pores with uneven skin tone to the ideal mattress of the face.
Better known under the name of Vitamin B3, niacinamide is an active ingredient recognized for its multiple actions; it helps reduce the appearance of large pores, evens skin tone, soothes redness, restores radiance to the skin while smoothing fine lines. This active ingredient is therefore particularly indicated for skin that has inflammation, some imperfections or a lack of radiance.  
One of its main roles is also to strengthen the skin barrier by stimulating the production of ceramides (lipids essential to the skin). It thus acts against skin ageing because a deficit in ceramides can dry out the skin and deepen fine lines and wrinkles even more.
What are the benefits of niacinamide for the skin?
The soothing, antioxidant and anti-inflammatory properties of niacinamide make it possible to act upstream on the prevention of marks linked to hyperpigmentation. By boosting the skin's natural protection, niacinamide also reduces the impact of the effects of pollution. With daily application, spots and imperfections fade away. The complexion is instantly more even, luminous and the skin texture is sharper.
Anyone can be considered the perfect subject when it comes to the use of niacinamide. Indeed, the B3 is ideal for all those who wish to brighten their skin, prevent ageing, or both. 
However, note that niacinamide is not as active as the other ingredients, so it takes longer to see long term results. And as always, when testing a new ingredient or product, it's best to test a small area just as a precaution.
Which niacinamide-based products to choose from?
 If you are used to using Face Serum (which is very important), we recommend using serum enriched with niacinamide that purifies the skin without attacking it and tightens the pores. It leaves the skin mattified and clearer. You can use this serum in the morning and/or in the evening.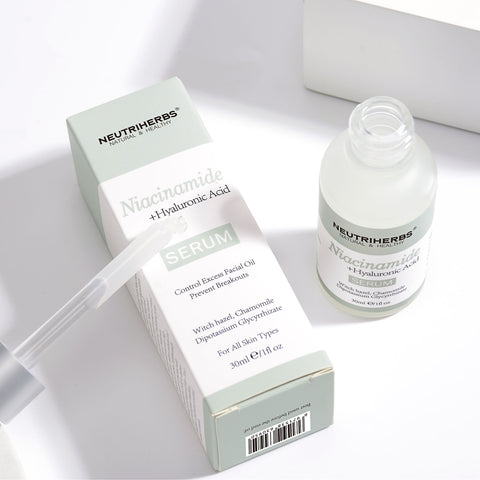 If for some reason you don't want to directly add a niacinamide serum to your routine, you can mix a few drops of the serum in your day and/or night cream, it will work just the same way. 
Together with Vitamin B3 using argan oil lotion can be a good combination. Argan oil lotion focuses on cell renewal and skin-strengthening and niacinamide also play a role in the regeneration process of inflammation.
Niacinimide combines well with almost anything, so you can apply it along with other beneficial ingredients - think of this multi-ingredient approach to skincare as you would your diet. Of course, spinach is great on its own, but by combining it with other powerful foods, you get a balanced and richer diet for a stronger body.
Niacinamide also works well with retinol. By helping to strengthen your skin barrier, niacinamide may help reduce some of the irritation associated with retinol.
And, if you've heard anywhere that niacinamide shouldn't be combined with vitamin C, rest assured, a lot more research has been done on the subject. When combined with vitamin C, the two ingredients can improve the overall glow of your skin,