01. What is an oil-based skincare
The sebum membrane, the first natural barrier of the skin. Using oil to nourish the skin means using skin care oils to moisturize the sebaceous membrane of the skin to improve the dryness of the skin caused by the low oil production of the sebaceous glands, thus strengthening the sebaceous membrane to provide moisture to the skin.
In fact, it is the presence of the sebaceous membrane that makes our skin pro-oil but not pro-hydration, so skin care oils are more easily absorbed by our skin.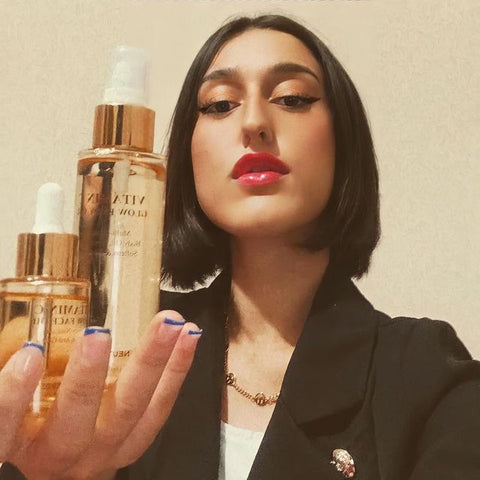 02. The principle of skin nourishment with oil

Simply put, the principle of skin nourishment with oil is to replenish and strengthen the sebaceous membrane. This layer of skin outside the stratum corneum helps to insulate the skin from external stimuli and also prevents the loss of skin moisture, thus playing a protective role. Our sebaceous glands produce sebum all the time.

When they are secreted, they spread out on the surface of the skin and form a sebum film. However, people with dry skin produce very little sebum. This causes their sebum film to be not as strong as normal skin or oily skin.

03. What are the benefits of nourishing skin with oil?
Light and mature women over the age of 25 have a gradual decrease in oil secretion, so the use of oil nourishment at this time can externally replenish the skin's lack of soil nutrients, thus reducing skin sensitivity and dryness.

Oil-based skincare usually helps to restore nutrients to the skin, rapidly hydrates the skin, strengthens the sebaceous barrier, provides a concentrated dose of essential fatty acids to the skin, and aids in skin care.

Natural oils contain some unsaturated fatty acids and other nutrients, which can provide the skin with some essential nutrients, and regular use of natural oils can achieve the function of strengthening the skin's sebaceous membrane barrier, especially for dry skin, and their own skin sebum production is too low.

Proper care of the skin with oil, usually can make the surface of the skin form a protective film and can help the skin to maintain a moist state, good natural oil does not make the skin a burden, not to worry about the risk of acne and so on.

04. What kind of skin type is suitable for this "oil for skin" skin care mode?

1. Desert dry skin, dry skin all year round
2. Combination skin, recommended for use in autumn and winter
3. People with damaged skin barrier

To sum up: dry skin needs oil to replenish nutrients; sensitive skin needs oil to thicken the barrier; acne skin needs oil to soften the sebum film and accelerate metabolism; mature skin needs to replenish oil for reduced oil secretion.

Of course, to get better skincare results, it is also important to pick a suitable oil-based product!

Use our luxuriously light Neutriherbs Vitamin C Radiance Face Oil to experience the visible effects of a trio of oils - hydrating, brightening, and revitalizing. Infused with vitamin C, rosehip oil, and squalane, this instantly absorbable face oil brightens and hydrates while locking in needed moisture. Suitable for all skin types - reveal your most radiant skin. This face oil is light in texture, just like essence water, absorbs well on the face, and is not oily~.

Not only is your face prone to dehydration and dryness during the fall and winter seasons, but your body is more prone to dryness, peeling, and itchiness during the seasonal change due to the large temperature changes. This is when a good body oil can solve all the problems!

Our Neutriherbs luxurious, lightweight, multi-purpose Vitamin C Revitalizing Body Oil combines Vitamin C, Rose Hip Oil, and Ceramides to infuse your skin with instant moisture, bring soft, tactile effects, and instantly relieve dry, itchy, flaky skin, and provide your body with continuous nourishment and hydration!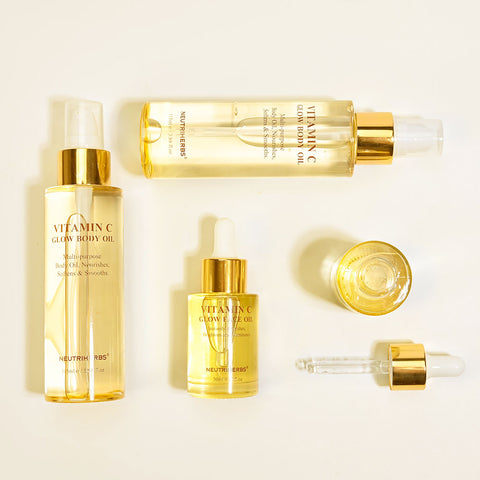 05. So, how should skin care oils be used correctly for better results?

1) For oily skin, normal skin, sensitive skin, and combination skin :
Step1: After cleaning the skin spray a moisturizing and soothing spray or gently pat a layer of toner

Step2: Take 1~2 drops of skin care oil mixed with 1~2 drops of essence in the palm of your hand and apply evenly on the skin of your face, if your skin is dry, you can increase the amount of essential oil appropriately. (Skin care oil can be used after mixing with essence, and also can be used after mixing with cream)

Step3: then spray a layer of spray, which can deepen the absorption effect of skin care essential oil, this one step does not feel like oil, it is really important.

Step4: The last step is to apply the repair type cream again, if the skin problem is not big, use the basic moisturizing cream can also be.

2) For large dry skin.
Step1: Apply toner/essence after cleansing the skin.

Step2: Take 2~3 drops of skin care oil in the palm of your hand and apply it directly to the skin of your face, if your skin is dry you can increase the amount of oil appropriately.

Step3: Then spray a layer of spray, which can deepen the absorption effect of skin care essential oil.

Step4: The last step is then to apply the cream, which can better consolidate the moisturizing effect.

Tips: If you only apply one oil alone, and do not use another water cream, essence, or cream, it is recommended 2~3 times/week. If it is used together with water lotion, essence, and cream, you can add skin care oil to your daily skincare routine.

3) Periodic skin care - oil application method.
Step1:After cleaning the skin pat a layer of toner or apply a thin layer of essence

Step2: Apply the skin care oil to the whole face, and you can apply another thick layer of skin care oil to places that are prone to dryness and dehydration, such as the sides of the nose, corners of the mouth, cheeks, and other areas.

Step3: Open the mask and leave it on for 15~20 minutes.

Step4: The last step is to wash it off with warm water and then apply the cream.

Warm tip: According to personal needs, the oil application method is about 1~2 time/per week.

06. How should I choose a good oil for skin care maintenance?
First of all, avoid choosing olive oil, mineral oil, or petroleum jelly these skin care oils, these oils do not feel good experience, as if a thick layer of oil on the face because the texture is thick, and poor absorption, it is easy to appear boring acne and long closed mouth phenomenon.

The recommended use of skin care oils containing squalane is more skin-friendly, has a light texture, the experience is also good, and the composition of a single, low irritation of the skin, do not worry about causing allergies. It is also a part of the sebaceous membrane, so you can use it to repair the barrier and moisturize the skin at the same time.

In addition, rosehip oil, jojoba oil, grapeseed oil, and white pond flower seed oil are also good choices, they all belong to good absorption of the base oil, and the risk of acne is very low, sensitive skin is also suitable.

Rosehip oil is a high-performance oil, with good skin-friendliness, high stability, easy to be absorption, and the relative balance of oleic and fatty acids, to promote skin regeneration, effective improvement of acne scars, whitening and light spots, and anti-aging moisturizing.