Why is using a facial serum necessary?
One of the most famous products in the cosmetics world is a serum. This is, of course, not without reason. A serum can give a huge boost to the skin. The high concentration of active ingredients makes it very effective in solving various skin problems. With regular use, the skin can improve visibly and palpably. You never hear from someone who regrets starting to use a serum.
On the contrary! Most don't want to be without it anymore. A facial serum is a product that contains a high concentration of active ingredients. A study found that serum works up to 3 times stronger than a day or night cream. The fine texture of the serum allows these active ingredients to penetrate the different layers of the skin, unlike a cream that is much thicker inconsistency.
What distinguishes a serum from a cream?
In the cosmetic world, a serum defines itself as a highly concentrated extract rich in skin-enhancing ingredients. Unlike heavier creams, which often have larger molecules, serums contain relatively small molecules. This allows a serum to be absorbed much more efficiently and quickly by the skin. Because it is absorbed rapidly, it is also much lighter on the skin than a cream. This ensures that a serum forms an ideal base for a cream or mask
How to use a facial serum?
Apply your serum twice a day. You can also use two different serums to work on more skin needs. For example, if you want to improve your skin hydration and anti-age or restorative or on acne or pigment spots. You can use two serums at a time. To apply the serum on your face. First, cleanse our skin thoroughly, Then apply serum to the face and neck. The next step is eye cream, Then your day or night cream.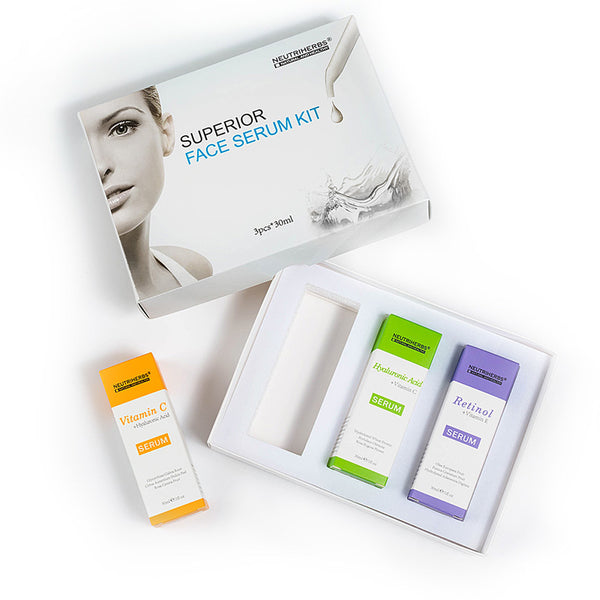 Neutriherbs Face Serum Kit For Multiple Skin Concerns
As part of a complete skincare routine, the Neutriherbs face serum kit helps you address specific concerns and get the most out of your other products. They're integrated with powerful, active ingredients that absorb fast so they can get to work to help you achieve your skin goals. Whether you want to brighten up your skin with great shine or if you want to  balance the smoothness, tone and texture, these serums will be your companion. there are 3 serum in this kit to suit all your needs. This kit includes
Vitamin C Serum which comes with quality Vitamin C and Hyaluronic Acid. It rewards you with flawless glowing skin. Reveal your radiant beauty with Neutriherbs Best Face Serum. It ensures clearer, healthy and fresh skin.
Hyaluronic Acid Serum strengthens your skin's moisture barrier to keep skin firm and hydrated, meanwhile, improve skin texture and brightness with intense moisture and balance. Rich with antioxidant Vitamin C, it helps to rejuvenate skin with a healthy radiant glow. Its ingredients include goodness of products like HONEY EXTRACT.
Retinol Serum combined with a synergistic blend of Vitamin E, softens your skin and it can unclog pores, and deeply clean acne. After using you will feel your skin smooth, refined, and not tight.