Understanding Salicylic Acid: How It Helps Treat Body Acne
A crucial component that is essential for treating body acne is salicylic acid. Acne Salicylic Acid is castoff as Clear Body Sponge to effectually mark and avoid breakouts without infuriating or drying the skin.
It encourages the body's natural exfoliation process, which helps to remove dead skin cells and clear clogged pores, lessening the intensity and frequency of body acne breakouts.
Additionally, Tea Tree Oil, which is a component of the composition, has antibacterial and anti-inflammatory characteristics that help prevent acne scarring and encourage cleaner skin.
This body wash offers moderate exfoliation, clears pores, and leaves the skin feeling smooth, hydrated, and renewed thanks to the calming effects of Golden Chamomile and the moisturising qualities of Hyaluronic Acid.
The Benefits of Using Salicylic Acid for Body Acne Treatment
Salicylic acid is a popular ingredient found in many acne treatment products. It is particularly effective for the treatment of body acne. 
Using salicylic acid body wash is a highly effective treatment option for body acne. Its ability to unclog pores, reduce inflammation, control oil production, and improve skin texture makes it a must-have ingredient in any acne-fighting arsenal.
Salicylic Acid:It functions as a crucial component of Acne Clear body wash, promoting the skin's natural exfoliation process to remove dead skin cells and unclog pores. It helps lessen the intensity and frequency of body acne breakouts by minimising the build-up of debris and sebum.
Tea Tree Oil:This is used because of its anti-inflammatory and antibacterial characteristics, which help to prevent and lessen acne scarring and produce smoother, clearer skin. This increases the product's effectiveness.
Golden Chamomile:It soothes the skin, lessens redness, and helps relieve acne-related irritation.
Hyaluronic Acid:This also guarantees excellent hydration without leaving a greasy residue, leaving the skin feeling renewed and energised.
These components work together to create a rich foam formulation that gently exfoliates the skin, clears clogged pores, and improves skin texture for a refreshed and clean complexion.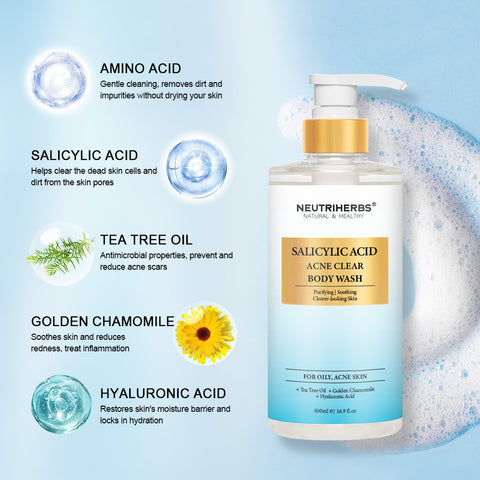 Potential Side Effects of Salicylic Acid Body Wash and How to Avoid Them
Body acne can be effectively treated with a salicylic acid body wash, but it's crucial to be aware of the possible negative effects and how to avoid them.
Take it slow and steady:Start off with a small dosage and gradually ramp it up as your skin gets used to it, so you can enjoy the benefits without any nasty side effects. This method lessens the possibility of dryness, redness, and mild skin irritation.
Follow the indorsed procedures:Must be utilized rationally and in harmony with the constructer's endorsements. It should not be applied to broken or irritated skin because this could make the issue worse.
Sun compassion:It has the budding to upsurge skin's warmth to the sun. As a result, it's critical to wear sunscreen to shield your skin from excessive exposure to damaging UV radiation. This amount of caution aids in avoiding sunburn and other potential sun-related harm.
Possible ill effects:Salicylic acid uses frequently experience peeling, stinging or burning sensations, redness, irritability, dryness, and hives. It is advised to stop using the medication and get medical help if any of these negative effects worsen or persist.
Thwart using other biochemical exfoliants together:While it may be tempting to team up with other chemical exfoliants like benzoyl peroxide, glycolic acid, or lactic acid, this scrub is like a one-man army in the war on dead skin cells. So, skip the reinforcements and let this powerhouse do its thing solo.
Always remember to get medical advice from a dermatologist or healthcare provider if you have any worries or suffer any severe side effects from utilising products having salicylic acid in them.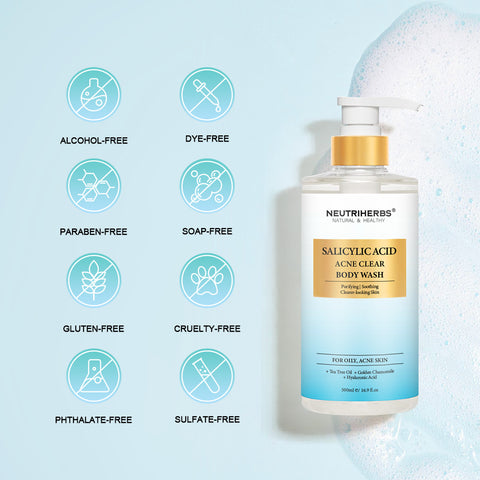 Understanding Different Types of Body Acne and How Salicylic Acid Can Help
Acne is a common skin condition that affects millions of people worldwide. While acne typically occurs on the face, it can also appear on other parts of the body, such as the back, chest, and shoulders. Body acne can be especially challenging to address, as the skin in these areas is thicker and has larger pores than the skin on the face.
There are several different types of body acne, each with its own unique characteristics. The most common types of body acne include:
Comedonal Acne: This type of acne is characterized by the presence of blackheads and whiteheads. These occur when hair follicles become clogged with oil and dead skin cells.

Inflammatory Acne: Inflammatory acne is more severe than comedonal acne, and is characterized by red, swollen, and painful pimples.

Cystic Acne: Cystic acne is the most severe form of acne, and is characterized by large, inflamed cysts that can leave scars.
Salicylic acid is an effective treatment for body acne because it exfoliates the skin and helps to unclog pores. Salicylic acid works by dissolving the dead skin cells that accumulate on the surface of the skin, which can help to prevent clogged pores.
When applied to the skin, salicylic acid penetrates deep into the pores, where it can dissolve the excess oil that can lead to acne. By removing this oil, salicylic acid can help to reduce inflammation and prevent the formation of new pimples.
In addition to its acne-fighting properties, salicylic acid also has anti-inflammatory properties, which can help to soothe irritated skin. This can be especially beneficial for those with inflammatory or cystic acne.
While salicylic acid is generally safe for most people to use, it is important to note that it can cause skin irritation or dryness in some individuals. It is always important to patch test any new products before applying them to larger areas of the skin.
In conclusion, body acne can be a frustrating and challenging condition to treat. However, by understanding the different types of body acne and utilizing effective treatments such as our salicylic acid body wash, it is possible to achieve clearer, healthier-looking skin.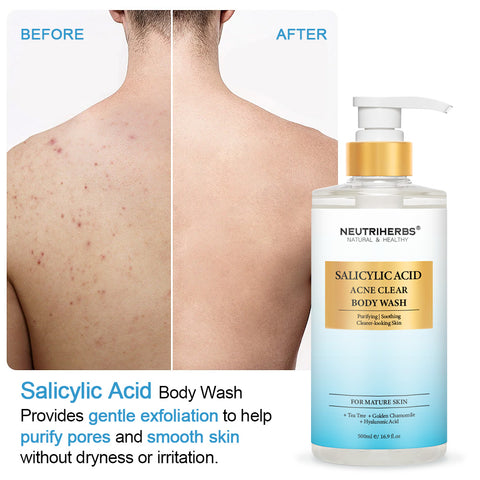 Tips for Choosing the Best Salicylic Acid Body Wash
There are a few suggestions to bear in mind while choosing the best body wash with salicylic acid.
Find a product made especially for acne-prone skin, such as Acne Clear Salycilic Acid Body Wash, which has salicylic acid and other healthy elements.
In order to clear pores and smooth the skin without creating dryness or irritation, make sure the body wash offers a mild exfoliation.
For a clean complexion and to avoid pore clogging, look for noncomedogenic qualities.
Look for complementing substances that provide calming and anti-inflammatory effects, such as Golden Chamomile and Tea Tree Oil.
Finally, pick a body wash that foams up luxuriously, leaving the skin cleansed, moisturised, and free of sulphates that steal moisture from the skin.
Frequently Asked Questions About Salicylic Acid Body Wash
Customers frequently have typical inquiries about salicylic acid body wash, including queries about its suitability for various skin types, frequency of use, potential side effects, and efficacy in treating body acne. The main ideas to address these questions are as follows:
Customers frequently ask whether salicylic acid body wash is appropriate for their particular skin type. Information on the product's compatibility for various skin types, such as oily, combination, or acne-prone skin, should be made available.
Use salicylic acid body wash as often as necessary to get the best benefits without going overboard, as many customers do. It is useful to offer advice on the suggested usage frequency, such as daily or seldom.
Express concern about possible salicylic acid body wash side effects. It is crucial to discuss typical side effects including dryness, itchiness, or redness and offer advice on how to reduce or avoid them.
Better understand how to incorporate salicylic acid body wash into their skincare routine by being given clear information on how to use it, including any special steps or concerns. Moreover, answering whether it.
Worried about what effects they might anticipate from utilising salicylic acid body wash over time. Setting reasonable expectations while communicating the potential benefits, such as smoother skin, less acne, and improved skin texture, is crucial.
Salicylic acid body wash is a popular skincare product, by setting reasonable expectations about its benefits, such as smoother skin and improved texture, you can feel confident in using salicylic acid body wash for the treatment of body acne.