Due to environmental factors such as harmful UV rays, stress and pollution, it is not uncommon for skin to appear dull and dull. Pigmentation spots or blemishes also contribute to uneven skin tone. Women should counter these symptoms and use quality products that can even the skin tone and which are also easy to integrate into their daily skincare.
The active ingredients contained in these products are mainly based on natural and herbal formulas and ingredients. Symwhite 377 (Phenylethyl Resorcinol), Tranexamic Acid, Glabridin, and Vitamin C are active ingredients that contribute to the skin renewal process and also have a stimulating effect.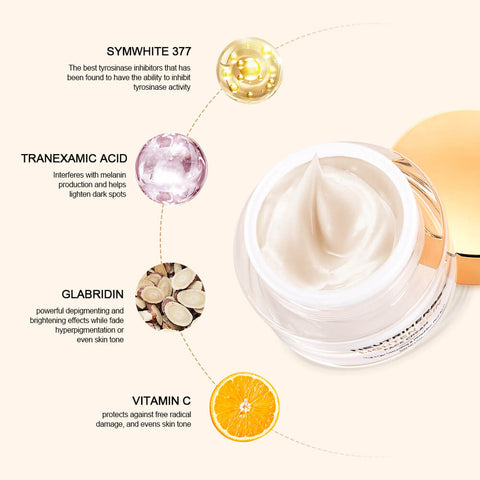 Do you suffer from uneven skin tone and skin pigmentation? Or have blemishes?  No need to fret now! Simply use Neutriherbs lightening cream. With the proven benefits of natural ingredients present in this product, it is surely a great product of application.
The texture of the skin around these areas may appear uneven due to various reasons. These irregularities can also be treated with lightening creams. Neutriherbs lightening cream, for example, can be applied twice a day for mild discolourations and two times a day for more severe pigmentation disorders. For an even appearance of the skin all over the body!
However, one common question that often arises includes- Are these creams safe? The answer is YES! not only do they provide an excellent skin tone, but these creams are also extremely safe to use on the skin. Furthermore, even if you go through a hectic schedule of skincare routine, a skin lightening cream can boost the work of other skincare products as well.
One of the main features of Neutriherbs' lightening cream is that it contains Symwhite 377. Symwhite 377 is confirmed to be the most beneficial ingredient, which tones the skin, brings more radiance to the complexion and balances the natural tone of the skin. This innovative product can help in achieving uneven and bright skin tone within 14 days.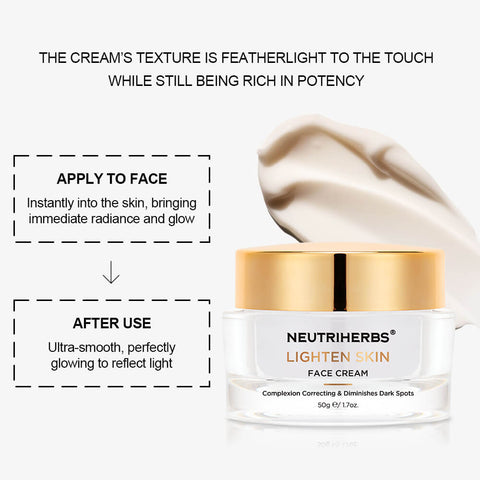 With its fast action, Tyrosinase will aid your skin by reducing the formation of melanin to dramatically reduce dark spots. Another beneficial ingredient of this product is Titanium Dioxide, which works as a protective shield, to protect your skin is not getting uneven and discoloured skin tone caused by UV light.
Finally, Vitamin C doesn't need an explanation for its benefits but the record, it has the potential for growth, development and repairing of skin tissues. With all such powerful ingredients and with Symwhite 377, Tranexamic Acid and Glabridin, this product works like magic. It helps in  synergistically doting down the 'pigment pathway' to best help clear brown spots and discolouration
To conclude, it is worth mentioning that every woman is beautiful and so is her skin tone but consistently working to retain its beauty and to keep the vital ingredients embedded in the skin cells, it is important to use a skin lightening cream, which will provide a naturally beautiful skin tone.