In this blog, We'll share with you another two of the influencers' thoughts about our brand. And we will continue to update this series. You could know more about Neutriherbs in this series and get exclusive discount codes at the end of the article.
Mariana Cruz from Mexico (INS ID: evemarcs)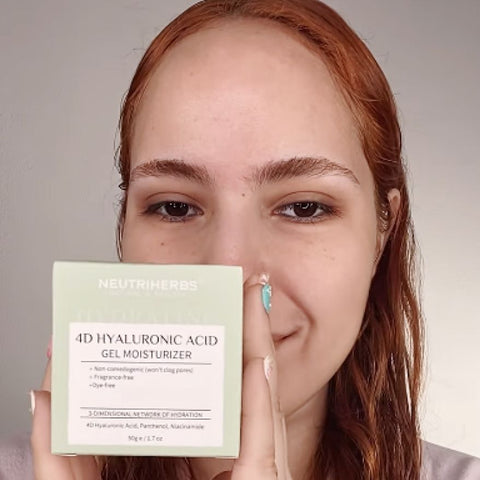 Q: WHICH OF OUR PRODUCTS HAVE YOU USED?
A: Usé tu mascarilla facial de hoja de ácido hialurónico, la loción corporal de aceite de argán y la crema hidratante en gel de ácido hialurónico 4D.
(I used your Hyaluronic Acid Sheet Face Mask, Argan Oil Body Lotion, and 4D Hyaluronic Acid Gel Moisturizer.)
Q: HOW DO YOU FEEL ABOUT THE PRODUCTS? WHICH ONE IS YOUR FAVOURITE?
A: Tengo que decir que me sorprendieron, el olor que tienen es tan sutil y suave con la nariz que fue una delicia que realmente se ajusta a su propuesta de valor, suave y efectivo. Los amo mucho. Las máscaras eran mi top. Está hecho de celulosa 100% vegana, se adhiere perfectamente a mi cara. Hidratan súper bien por dentro y por fuera y también se sienten bien en la piel.
(I have to say that they surprised me, the smell they have is so subtle and gentle with the nose that it was a delight which is really fit to their value proposition, gentle & effective. I love them very much. The masks were my top. It is made of 100% vegan cellulose, sticking on my face perfectly. They moisturize super nice from inside and outside and also feel good on the skin.)
A: La mascarilla se siente como de gel, tiene tantos productos que incluso me pongo un poco en el cuello y el pecho cuando la uso. La loción corporal tampoco está mal. Mientras esperaba que terminara la máscara, también usé la loción corporal ya que acababa de ducharme. Realmente tiene un olor fino y sutil que permanece en mi piel durante mucho tiempo.
(The mask feels like made out of gel, it has so much products that I even put some on my neck and chest when I use it. The body lotion is not bad too. While waiting for finishing the mask, I also used the body lotion since I had just taken a shower. It really has a fine subtle smell that stays on my skin for a long time.)
Q: WHAT DO YOU THINK OF OUR NEW PRODUCTS 4D HYALURONIC ACID GEL CREAM?
A: La crema hidratante de ácido hialurónico también es genial. Dice que ayuda a la piel a reponer el agua desde el exterior y retener el agua desde el interior, sintiendo de manera invisible que proporciona una hidratación profunda y duradera para la piel. Creo que me quedo con él porque puede mejorar la mejora de la humedad de la piel desde el interior, haciendo que la piel sea suave y elástica.
(The Hyaluronic Acid Moisturizer is great too. It said helps skin to replenish water from outside and hold water from the inside,  invisibly feeling it provide deep, long-lasting hydration for your skin. I believe I stick with it because it can improve skin moisture enhancement from within-making skin smooth and elastic.)
Aya Salem From Saudi Arabia (INS ID: ayabeautybuzz )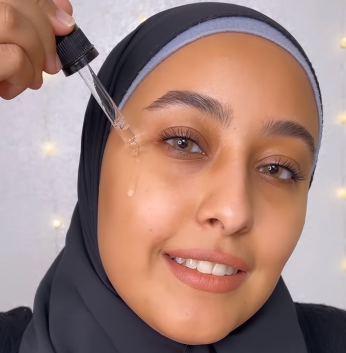 Q: WHAT PRODUCTS HAVE YOU USED?
A: لقد استخدمت فقط ثلاثة من خلاصة الريتينول وكريم الريتينول للوجه وهلام العين VC. لكني أرغب في تجربة المزيد من منتجاتك.
(I have only used three of your retinol serum, retinol face cream and VC eye gel. But I'd love to try more of your products.)
Q: WHAT'S YOUR USUAL PROCEDURE FOR USING OUR NEUTRIHERBS PRODUCTS?
A: أولاً ، أقوم بتنظيف بشرتي باستخدام المطهر الخاص بي وأضع قناعًا ، ثم أسقط مصل الريتينول على وجهي وقم بالتربيت والتدليك ، في انتظار أن يمتصه الجلد بالكامل ، فهو يحفز الكولاجين ويوحد البشرة ويحسن ملمسها ؛ ثم أستخدم كريم الريتينول بفيتامين أ لزيادة ثبات الجوهر ، هذا الكريم ينعم ظهور الخطوط الدقيقة ويملأها ويحفز إنتاج الكولاجين ، وهو أمر رائع حقًا. منذ أن كنت سهرًا كثيرًا مؤخرًا ، انتهى بي المطاف بتطبيق كريم فيتامين سي الخاص بك حول منطقة العين ، فهو يأتي بتصميم دائري مريح للغاية! ضعه بشكل خاص في الثلاجة قبل استخدامه ، يكون تأثير الانتفاخ جيدًا جدًا. كريم العين هذا غني بحمض الهيالورونيك ، الذي يمكنه ترطيب منطقة العين وترطيبها بعمق.
(First I clean my skin with my own cleanser and apply a mask, then drop the retinol serum on my face and pat and massage, waiting for it to be fully absorbed by the skin, it stimulates collagen, unifies the complexion and improves its texture ;I then use a retinol cream with vitamin A to further lock in the essence, this cream smoothes the appearance of fine lines, plumps them, and stimulates collagen production, which is really great. Since I've been staying up a lot lately, I end up applying your vitamin C eye cream around the eye area, it comes with a very comfortable roll-on design! Especially  put it in the refrigerator before use it, the swelling effect is very good. And this eye cream is rich in hyaluronic acid, which can moisturize the eye area and deeply hydrate.)
Q: WOULD YOU CONSIDER CONTINUING TO TRYING OUR NEUTRIHERBS PRODUCTS?
A: بالطبع ، كما قلت من قبل ، أود الاستمرار في تجربة منتجاتك. إنه لأمر مجز أن ترى علامة تجارية تنمو ، في المرة القادمة سأحاول سلسلتك الذهبية عيار 24 ، فإنها تفقد اهتمامها. سمعت أن GOLD (24 KARAT) يمكن أن يعزز عملية التمثيل الغذائي للبشرة ويترك البشرة متألقة وشابة ، وأنا أتطلع إلى فرصة تجربتها.
(Of course, like I said before, I'd love to keep trying your products. It's rewarding to see a brand grow, next time I'll try your 24k gold series, they loos interesting. I heard that GOLD (24 KARAT) can promote skin metabolism and leaves skin radiant and youthful, I am looking forward to the chance to try it.)
We look forward to more and more people joining us at Neutriherbs, using our products, and giving us more opinions. We want to challenge the industry standards for product formulation in our own way. Do you want to be one of us? Contact us!
Exclusive Discount Code: NEU25 (for order over 99$)