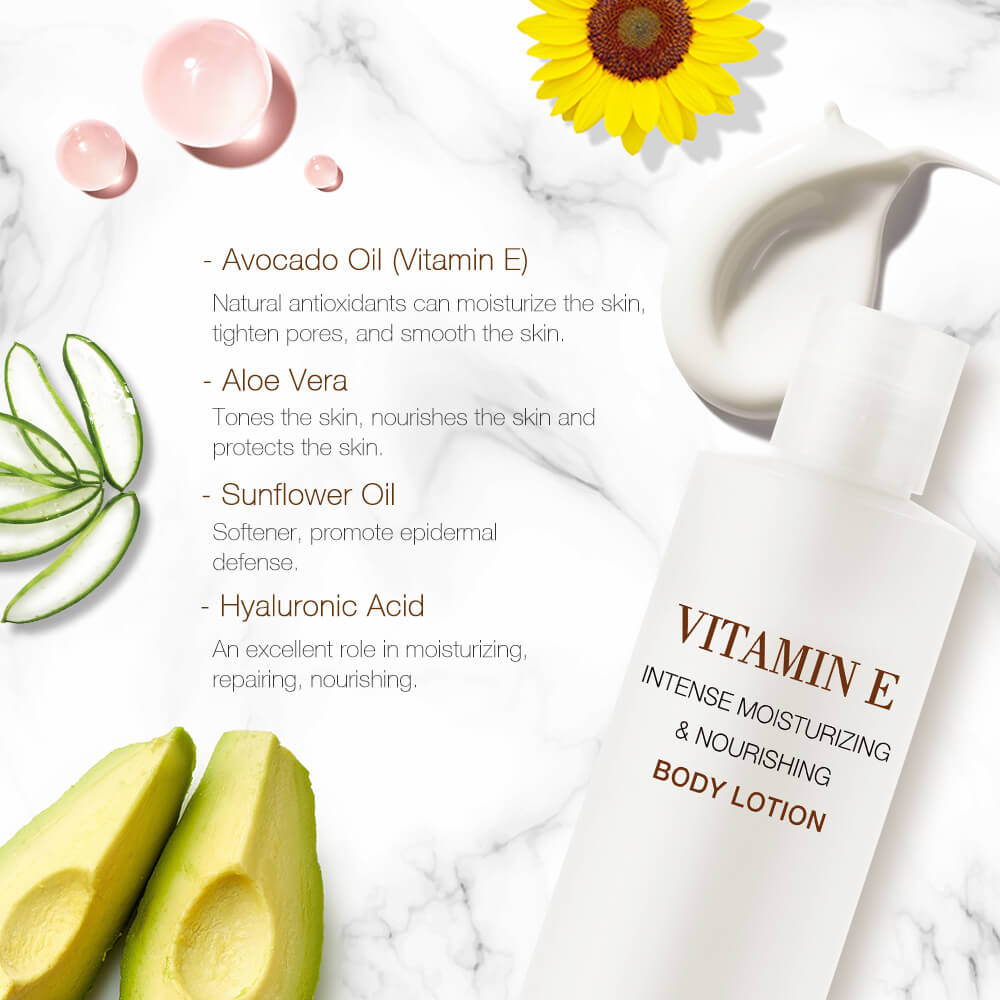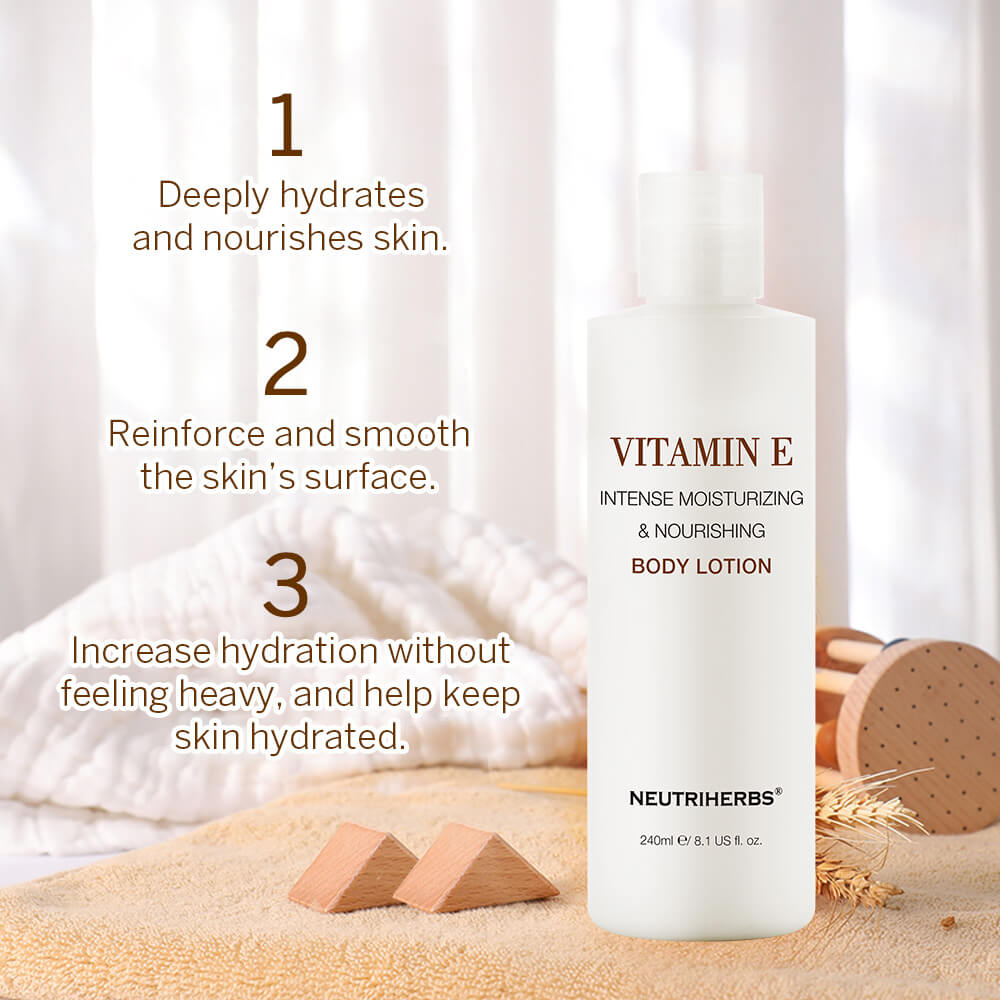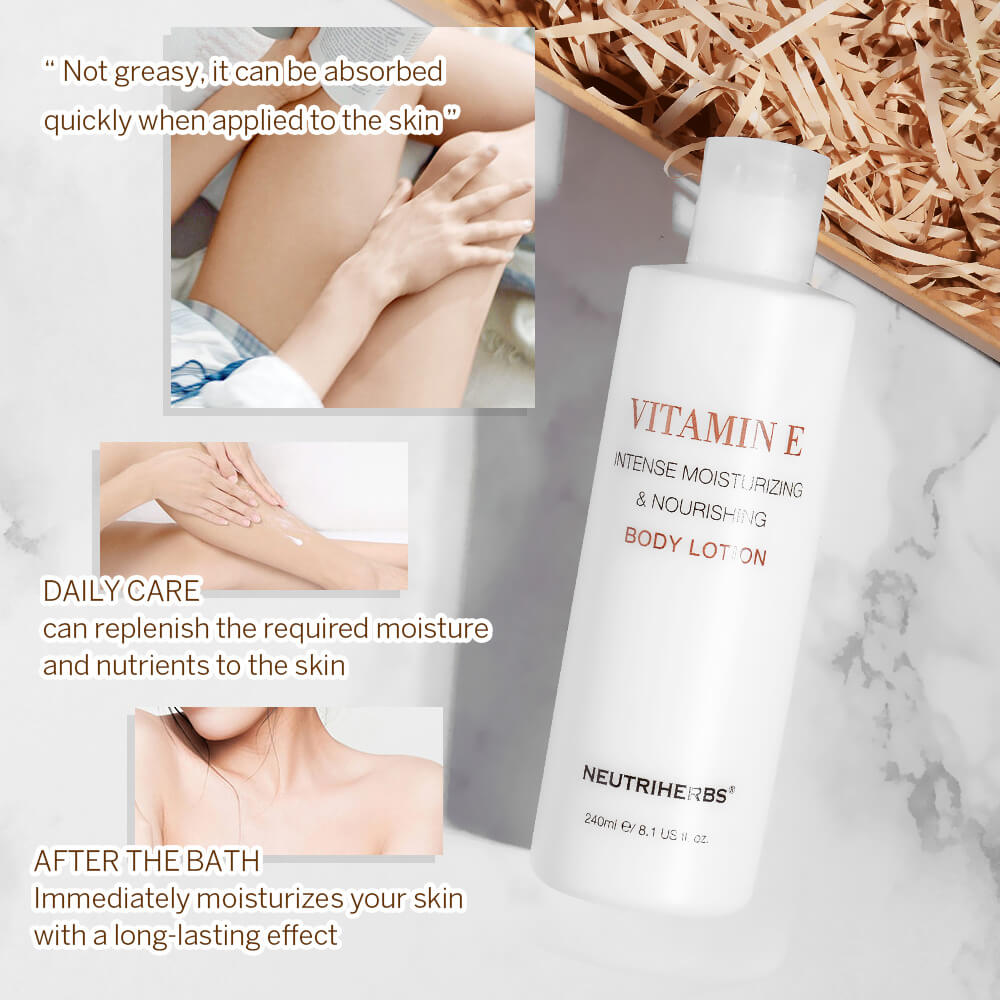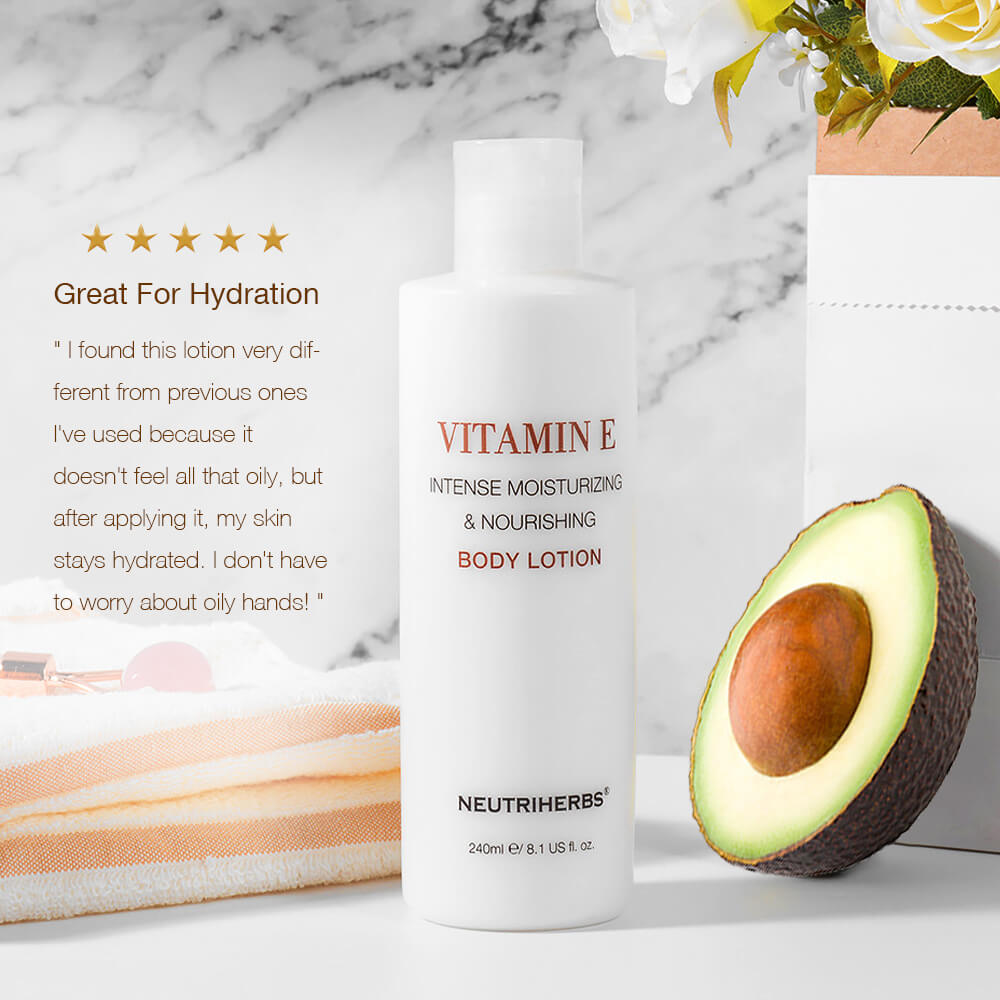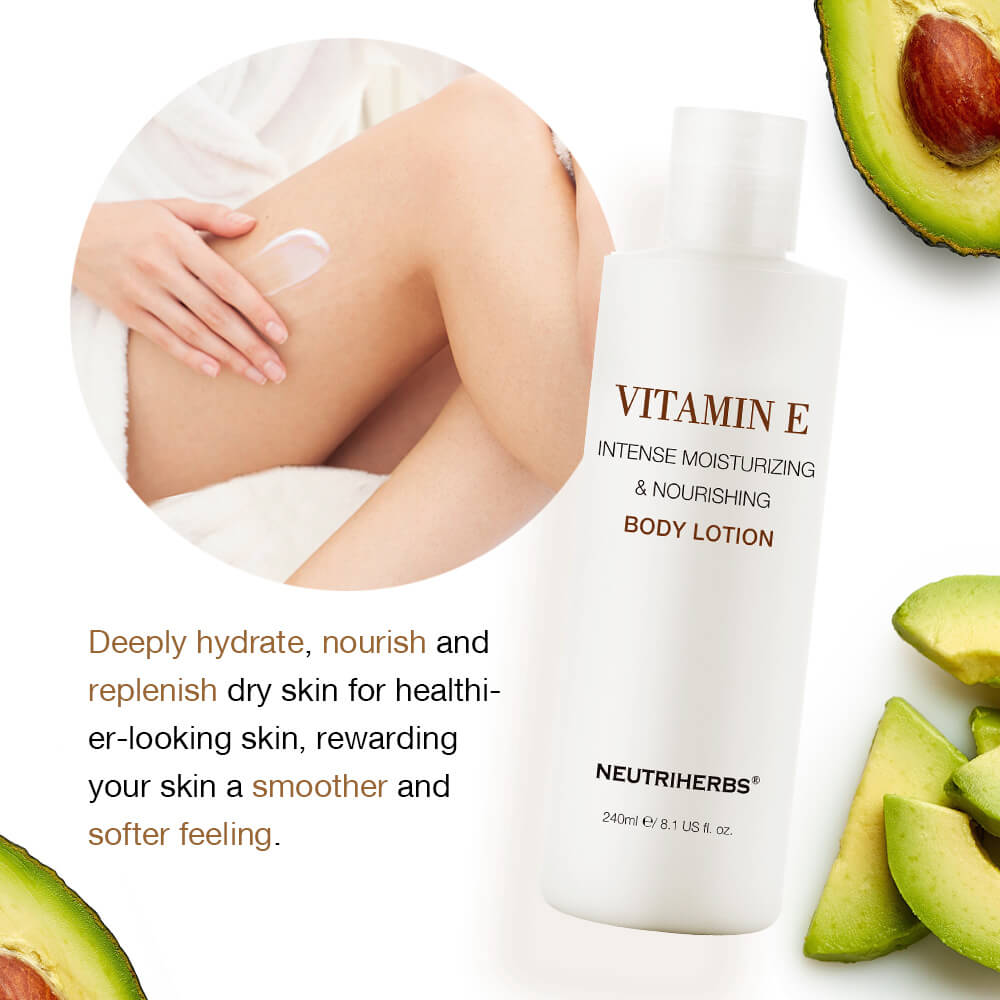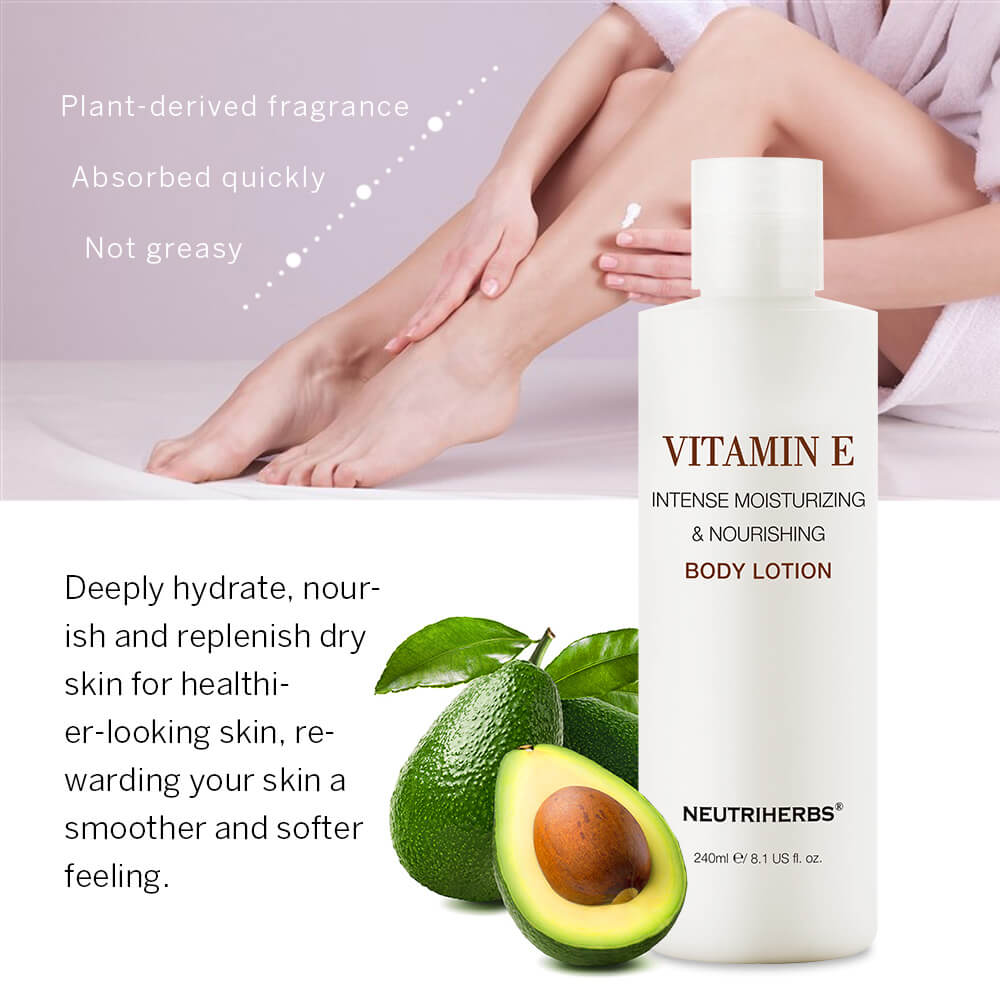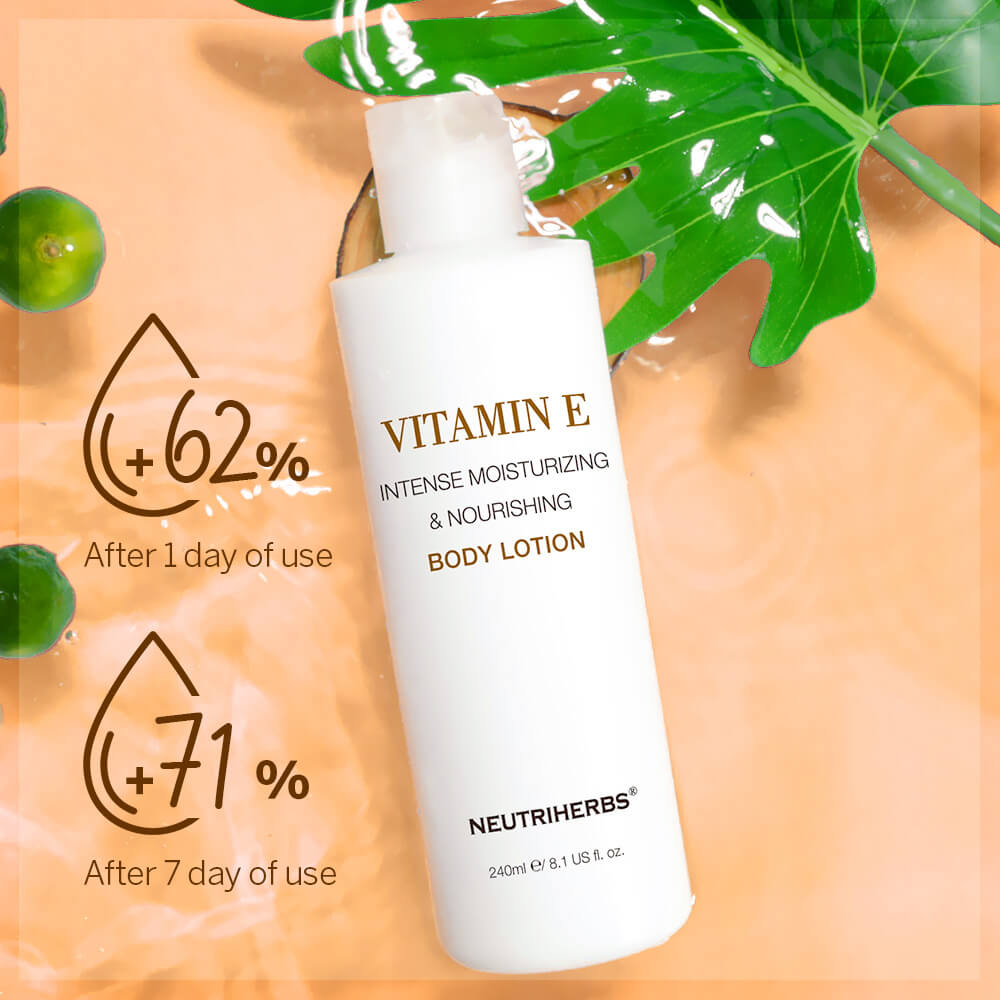 Vitamin E Body Lotion For Deeply Hydrating And Nourishing Skin
American express

Apple pay

Master

Paypal

Visa
Vitamin E Body Lotion For Deeply Hydrating And Nourishing Skin | 240ml e/8.1 US fl. oz.
Neutriherbs Vitamin E Body Lotion, formulated with protective Vitamin E, high-quality Avocado Oil, moisturizing Hyaluronic Acid, and Aloe Vera can deeply hydrate, nourish and replenish dry skin for healthier looking skin; rewarding your skin with a smoother and softer feeling.
Key Ingredients
Viramin E + Avocado Oils: Natural antioxidants can moisturize the skin, tighten pores, and Smooth the skin
Aloe Extract: Tones the skin, nourishes the skin and protects the skin
Hyaluronic Acid: Strong moisturizing factor, can play an excellent role in moisturizing, repairing, nourishing
Sun Flower Seed Oil: Softener, promote epidermal defense
Function
Gentle formula with all ingredients suitable for acne-prone and sensitive skin
Suitable for pregnant women
No fragrance and no alcohol
Not greasy, it can be absorbed quickly when applied to the skin Pressing the pump head is easy to break, and AMAZON complaints are high, our bottles are changed to squeeze. The cap is sealed to reduce pollution
Refreshing and lasting moisturizing Plant-derived fragrance (aloe flower)
*Tips
Cleaning can reduce the burden on the skin, but correspondingly the skin's natural moisturizing barrier will also be damaged during the cleansing process. At this time, applying the lotion can help the skin restore its moisturizing skin.
Apply an appropriate amount and gently massage into your body until the cream has been fully absorbed by the skin.

Caution:
- For external use only.
- Avoid direct contact with eyes.
- If the product gets into eyes, rinse thoroughly with water.
- Not to be used for children under 3 years of age.
AQUA, GLYCERIN, MINERAL OIL, ISOPROPYL MYRISTATE, PROPYLENE GLYCOL, STEARIC ACID, TOCOPHERYL ACETATE (VITAMIN E), CETEARYL ALCOHOL, ALOE BARBADENSIS EXTRACT, SORBITAN STEARATE, POLYSORBATE 60, TREMELLA FUCIFORMIS POLYSACCHARIDE, HELIANTHUS ANNUUS (SUNFLOWER) SEED OIL, DIMETHICONE, TRIETHANOLAMINE, ETHYLHEXYLGLYCERIN, PERSEA GRATISSIMA OIL(AVOCADO OIL), CARBOMER, PHENOXYETHANOL, ALOE BARBADENSIS FLOWER EXTRACT, HYALURONIC ACID.
Key Ingredients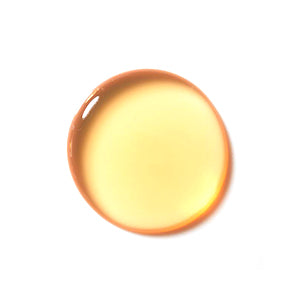 VITAMIN E
Keep the skin metabolism, prevent skin aging plays a vital role

ALOE VERA
Soothes and calms redness, inflammation and irritation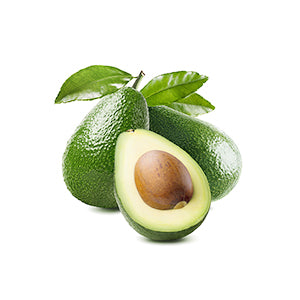 AVOCADO OIL
It helps smooth and soften skin as a gentle exfoliant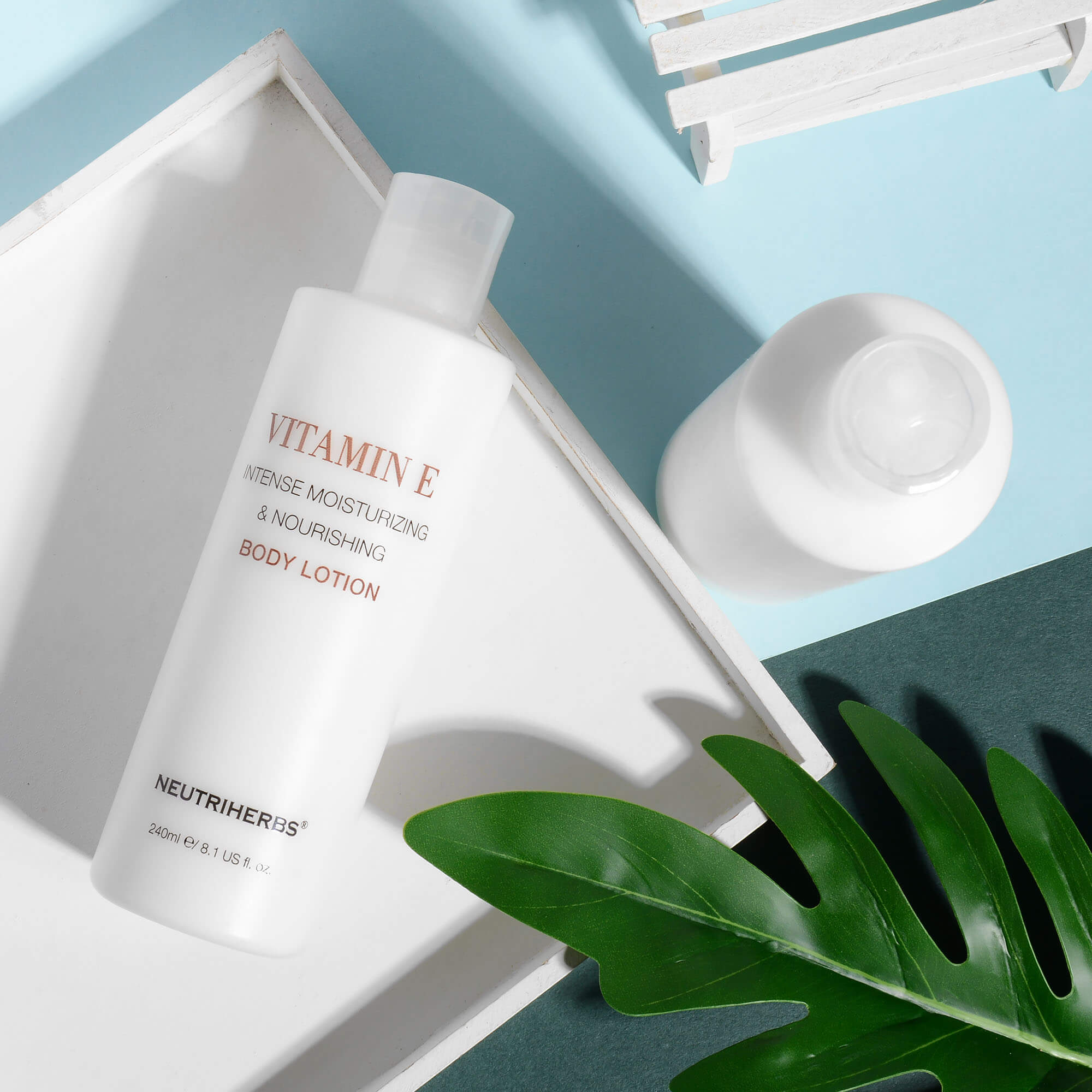 What's Good For?
- Helps improve skin's texture and tone for radiant, healthy-looking skin
- Lightweight texture absorbs easily, leaving the skin soft and luminous
- Hydrates skin and helps reinforce skin's defenses with antioxidant protection
- Immediately moisturizes your skin with a long-lasting effect
- Watery and creamy, light and easily absorbed by the skin

*Perfect for very dry skin and soften skin with 12hr moisture

How or When to Use?
How to use
Apply an appropriate amount and gently massage into your body until the cream has been fully absorbed by the skin.

When to use
Body lotion should be applied as soon as possible after taking a bath for the best moisturizing effect. The prime time to apply body lotion is within 5 minutes after bathing, while the body is still slightly wet.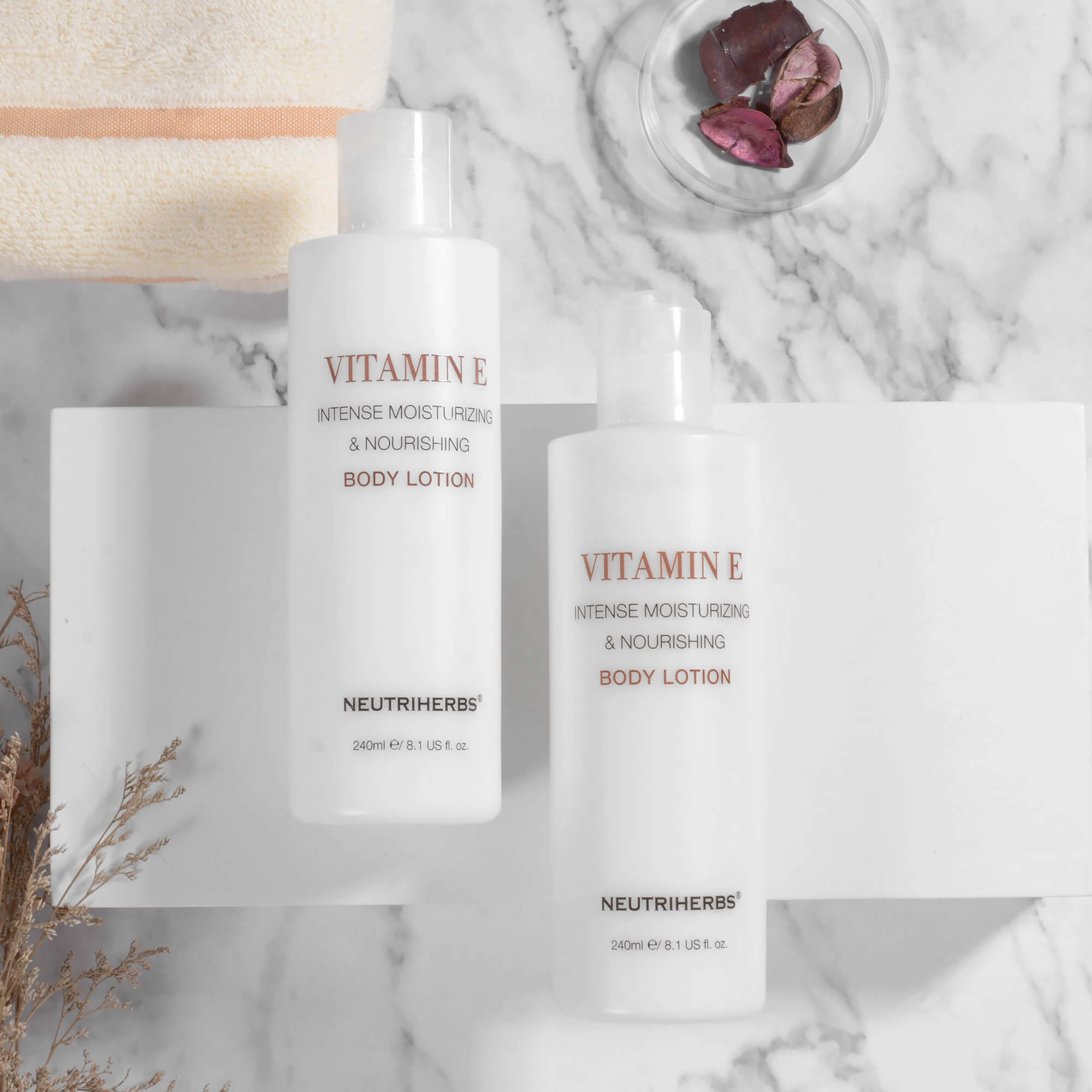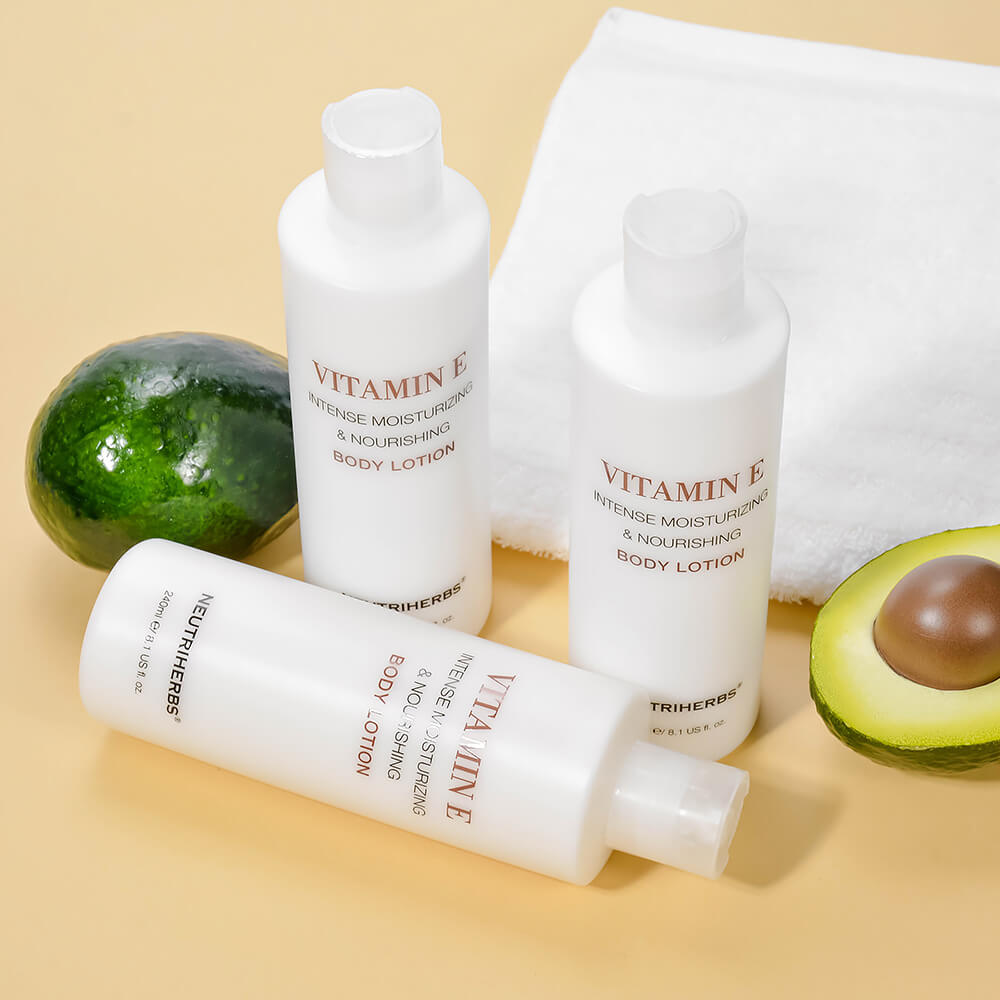 Before and After
"Not greasy, it can be absorbed quickly when applied to the skin."

- Effectively nourish skin
- Replenish dry skin for healthier-looking skin
- Rewards you skin a smoother and softer feeling
BECOME OUR DISTRIBUTOR NOW