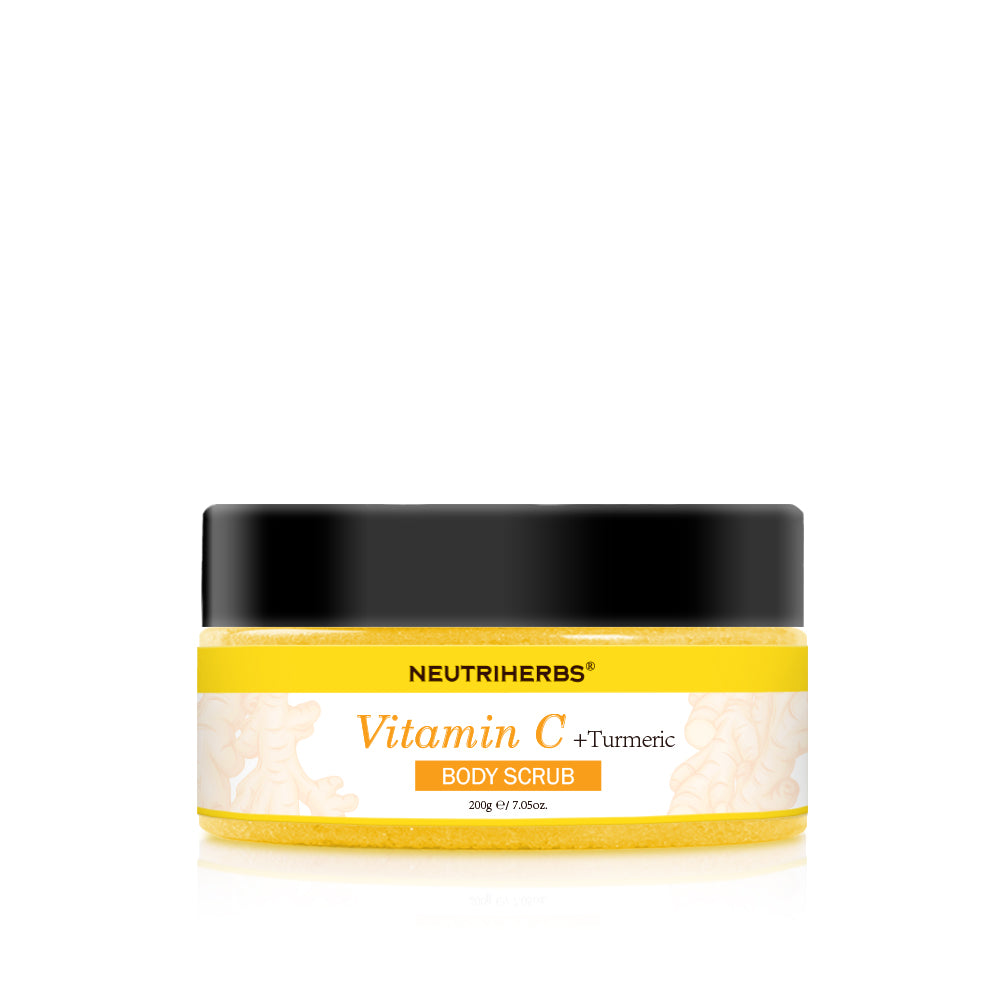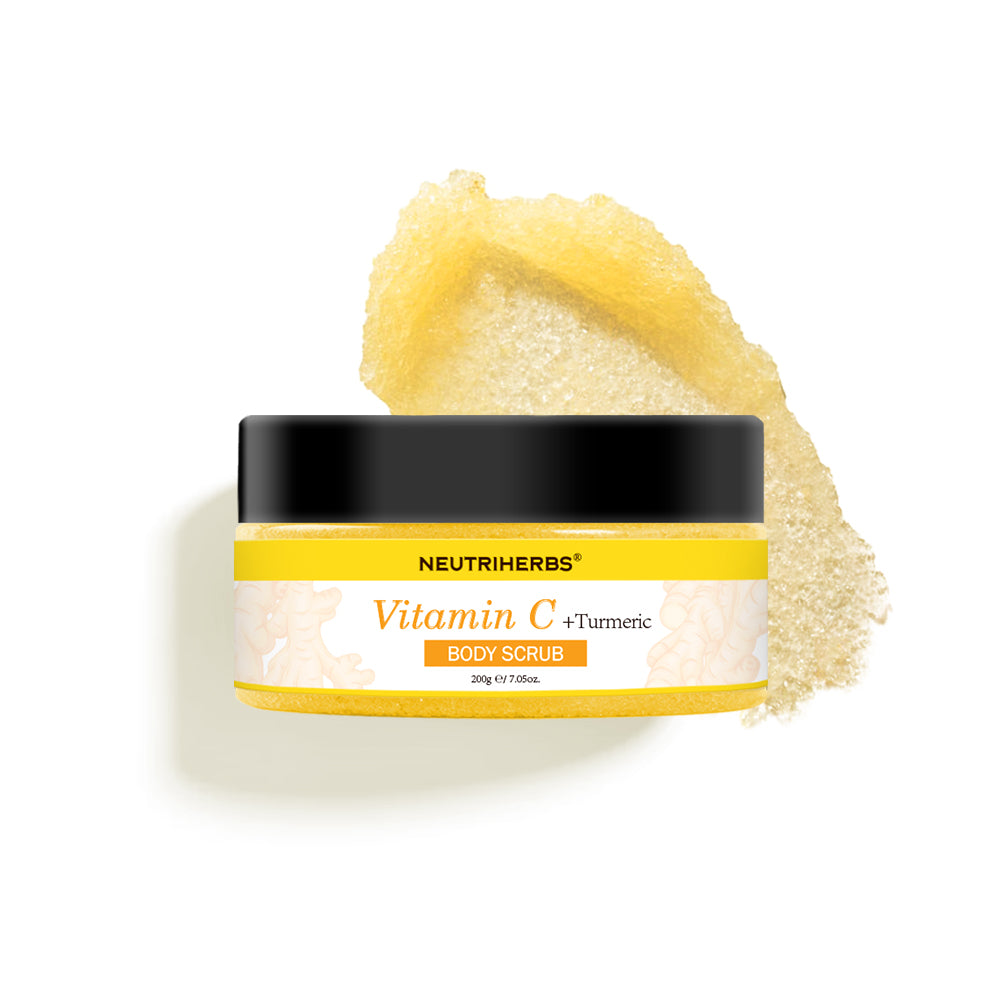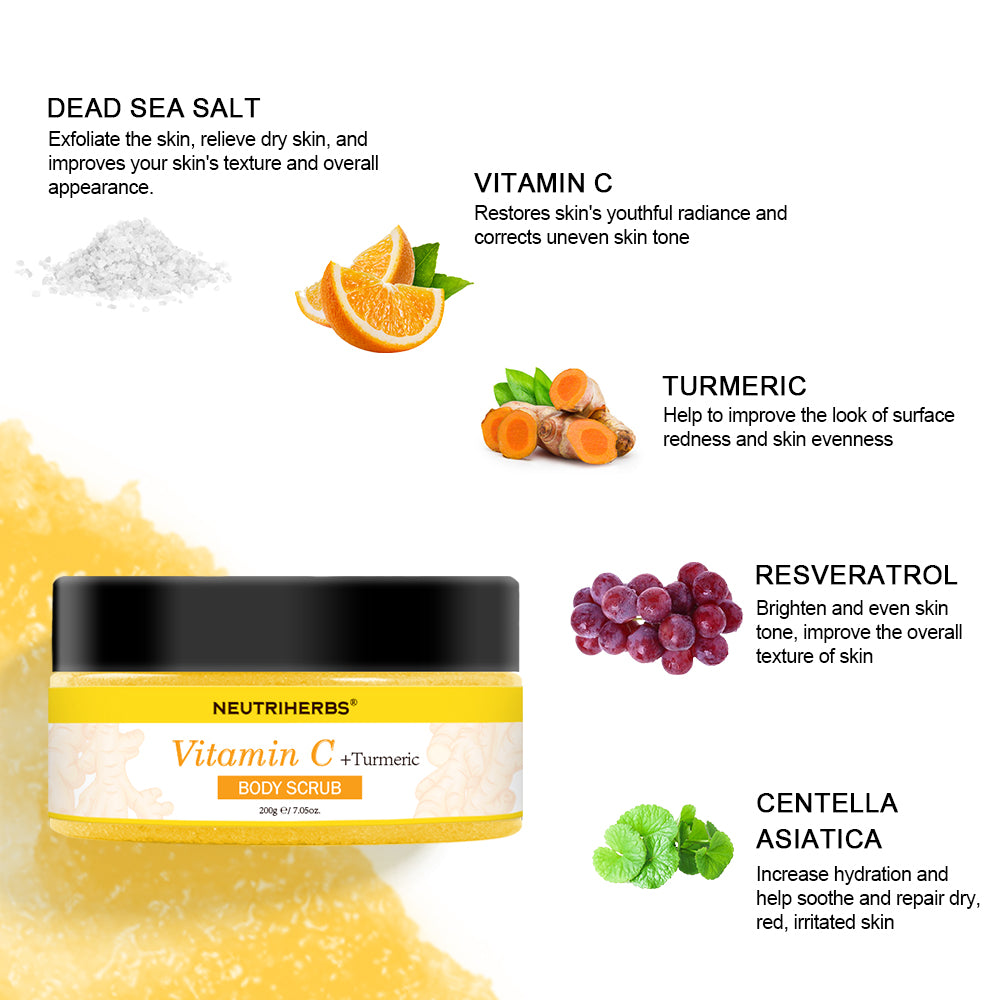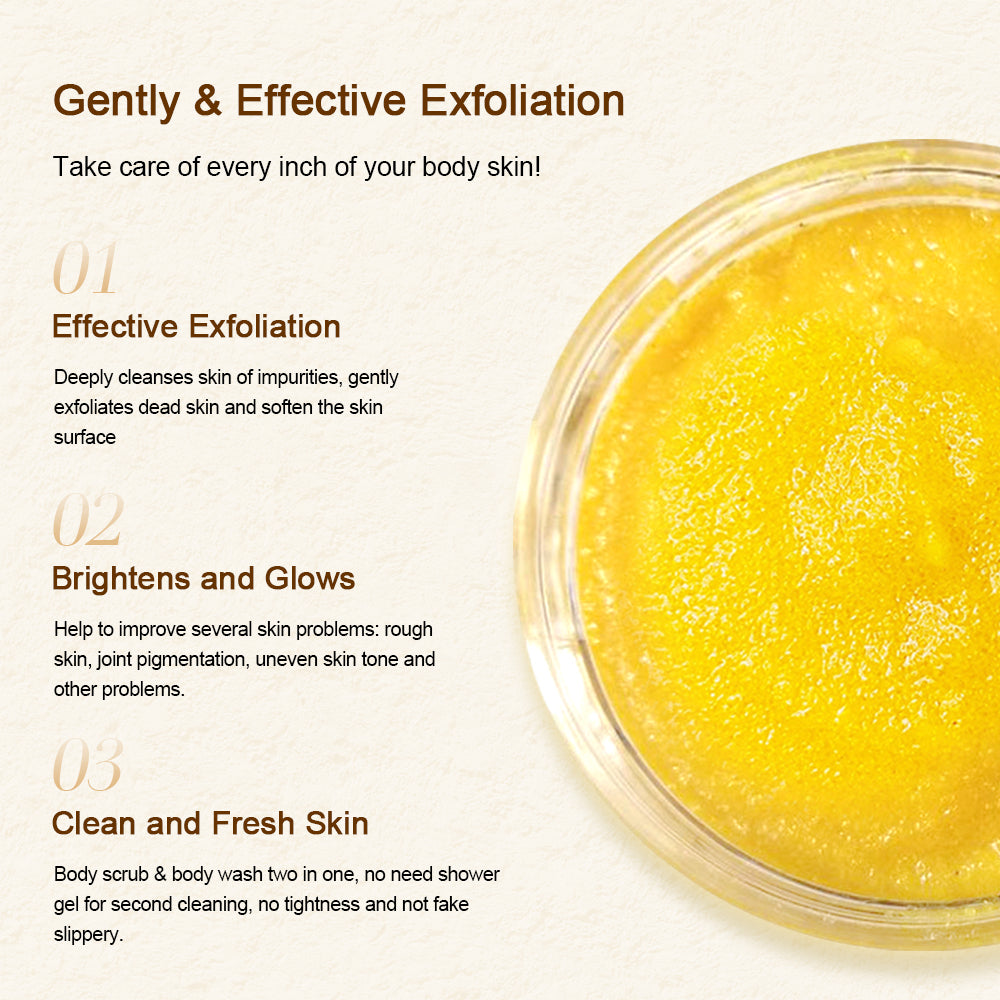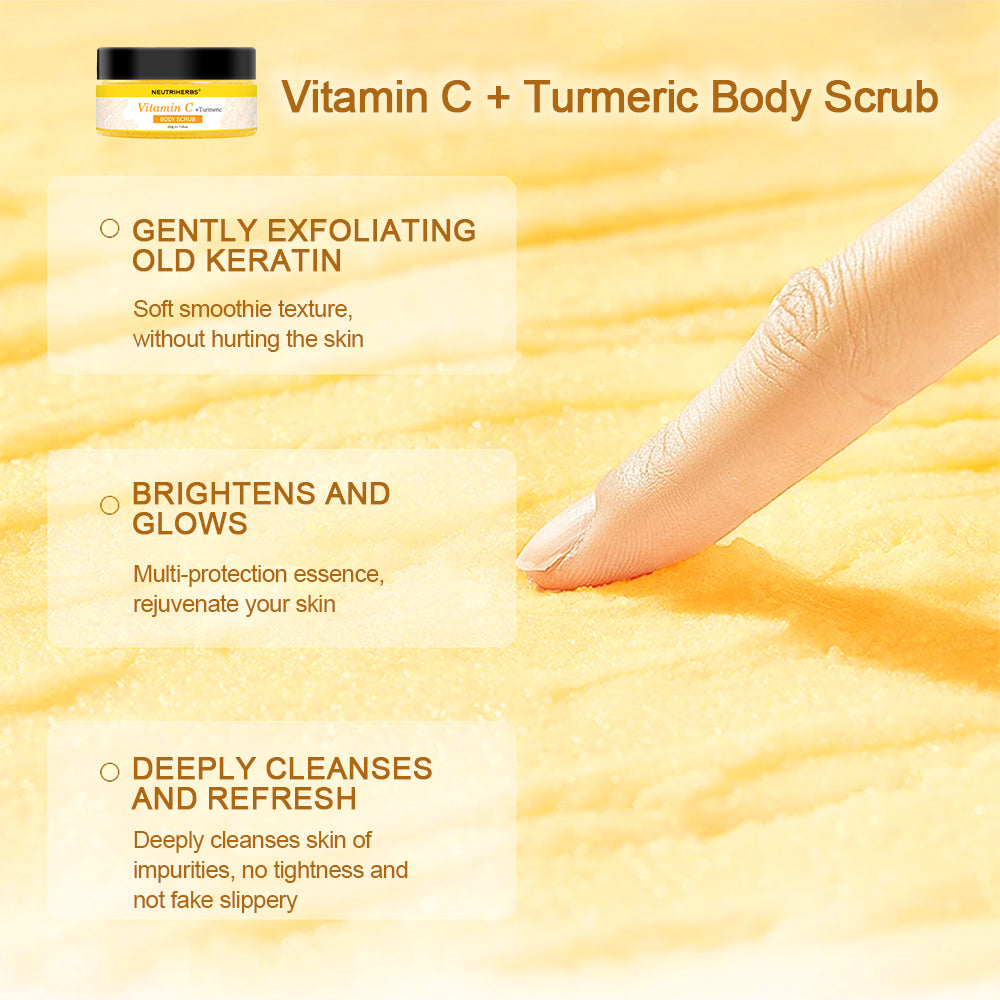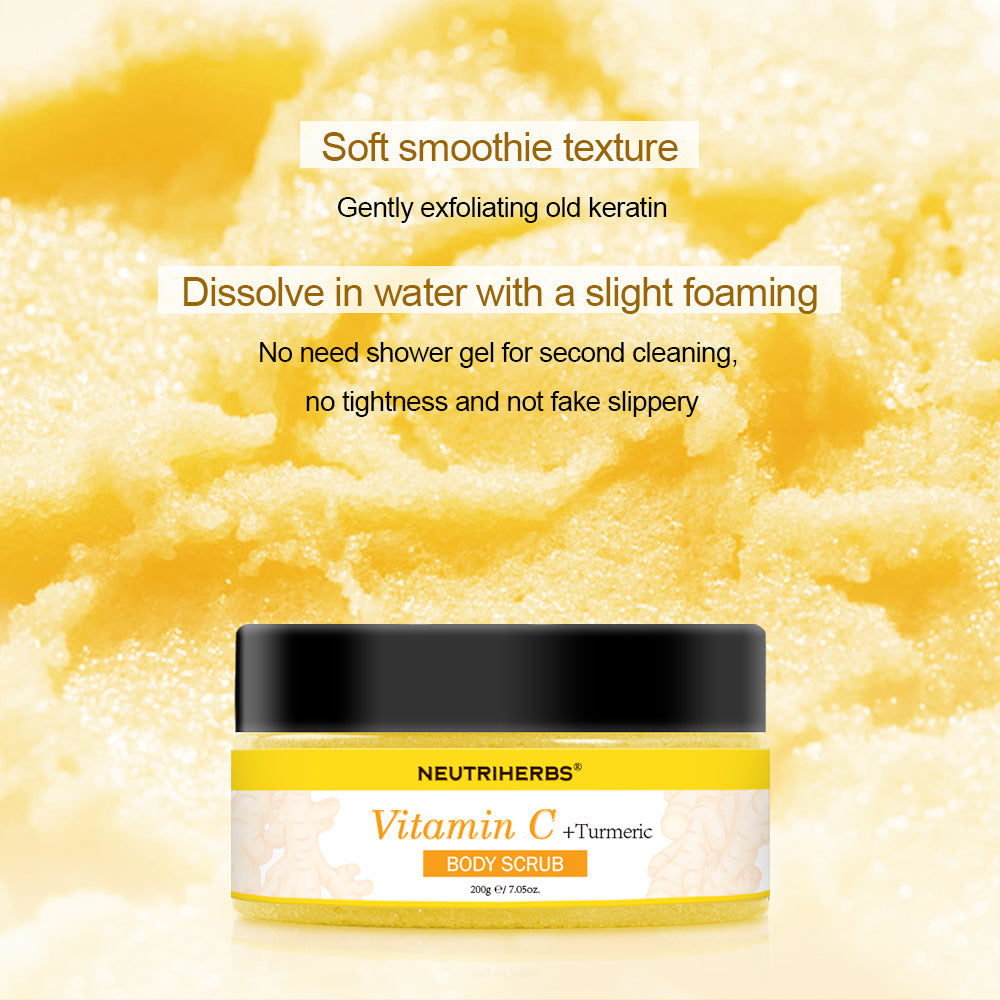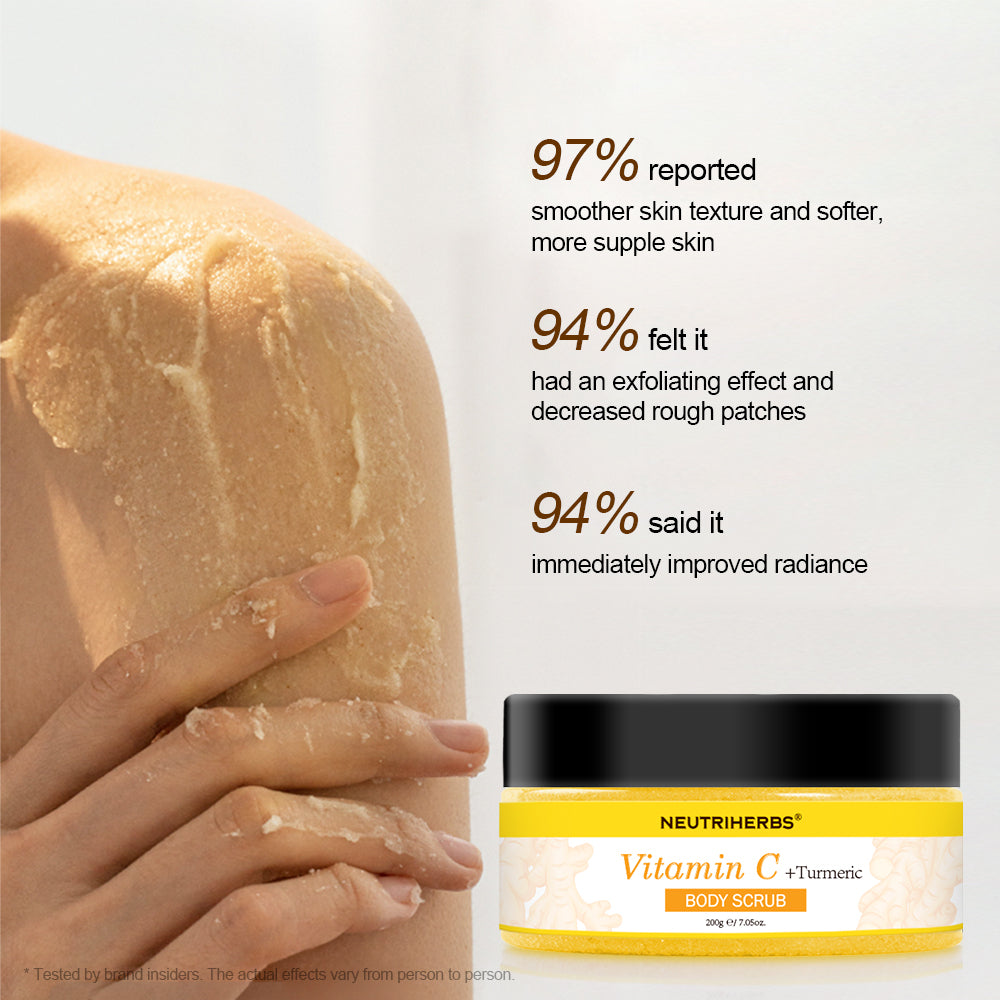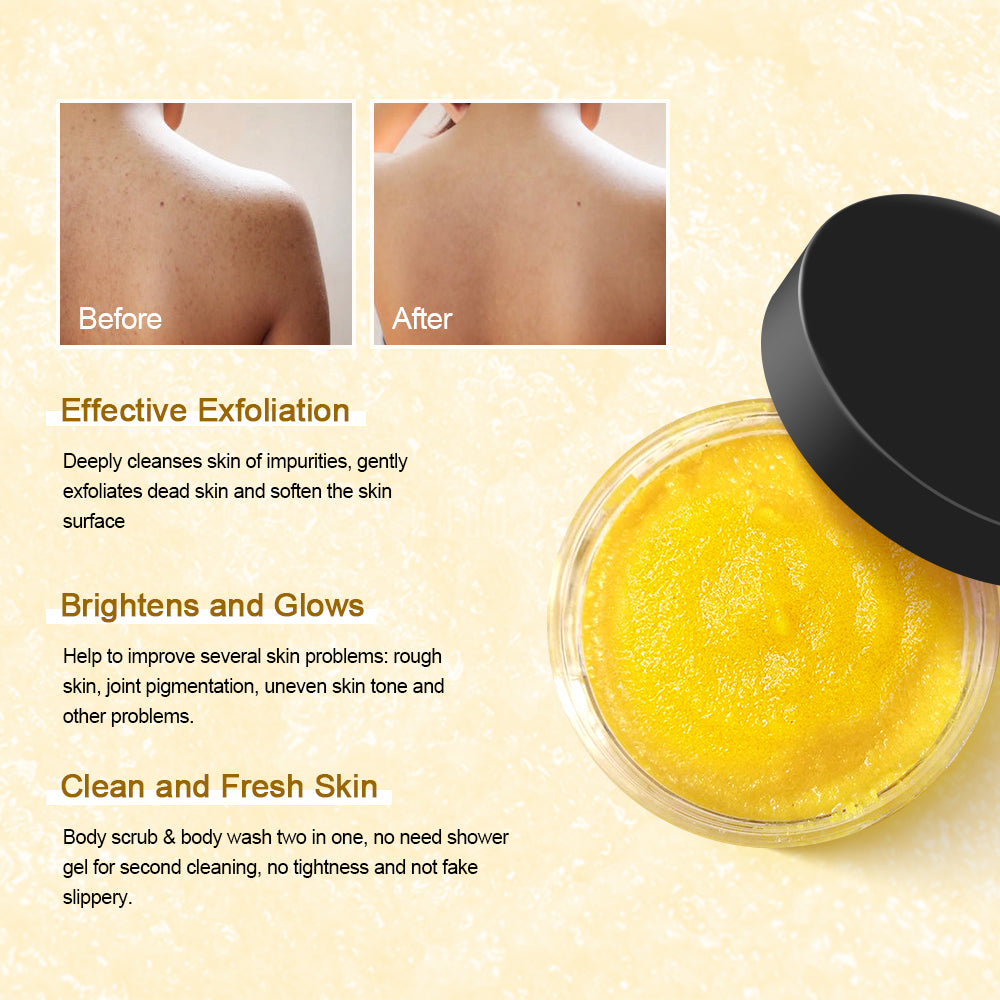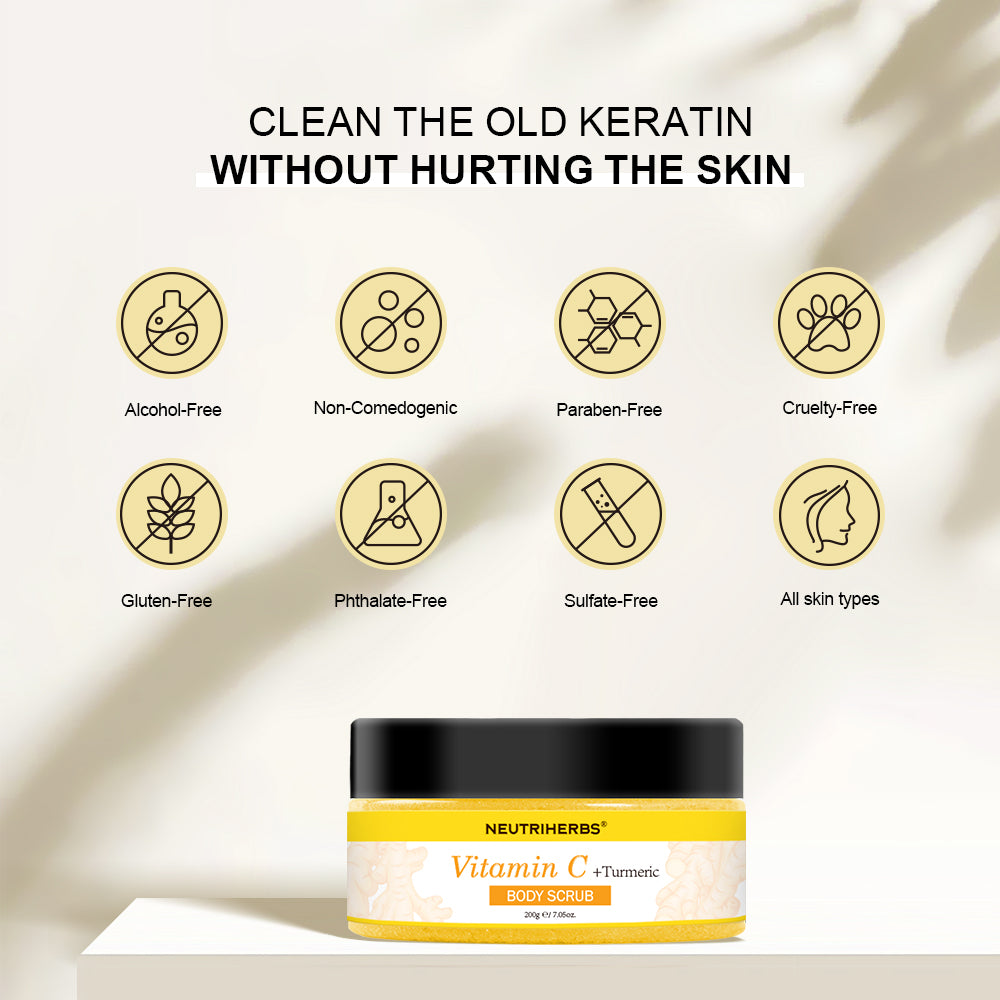 Vitamin C Turmeric Exfoliating Body Scrub For Skin Brightening
American express

Apple pay

Master

Paypal

Visa
Vitamin C Turmeric Exfoliating Body Scrub For Skin Brightening | 200g / 7.05 oz
Neutriherbs Vitamin C Turmeric Exfoliating Body Scrub For Skin Brightening slough away dead skin cells and visible impurities.
The main ingredients are extracted from high-quality turmeric root, mixed with Vitamin C, Dead Sea salt, infused with natural plant extracts. Your skin will feel so soft and refreshed after using this scrub!
Say goodbye to dull, dry skin to bring a natural glow to the body, brighten dark spots and fight aging skin. Take care of every inch of your skin!
Cautions:
* For external use only.
* Avoid direct contact with eyes.
* If product gets into eyes, rinse thoroughly with water.
* Not to be used for children under 3 years of age.
SODIUM CHLORIDE, AQUA, GLYCERIN, DECYL GLUCOSIDE, HYDROXYETHYLCELLULOSE, MAGNESIUM ALUMINUM SILICATE, XANTHAN GUM, TOCOPHERYL ACETATE (VITAMIN E), 3-O-ETHYL ASCORBIC ACID (VITAMIN C), CURCUMA LONGA (TURMERIC) ROOT EXTRACT, RESVERATROL, GLYCOLIC ACID, BUTYLENE GLYCOL, CENTELLA ASIATICA EXTRACT, GLYCERYL CAPRYLATE, GLYCERYL LAURATE, POLYSORBATE 80, PHENOXYETHANOL, PROPYLENE GLYCOL, CAPRYLYL GLYCOL, FRAGRANCE, CI 19140, CI 73360.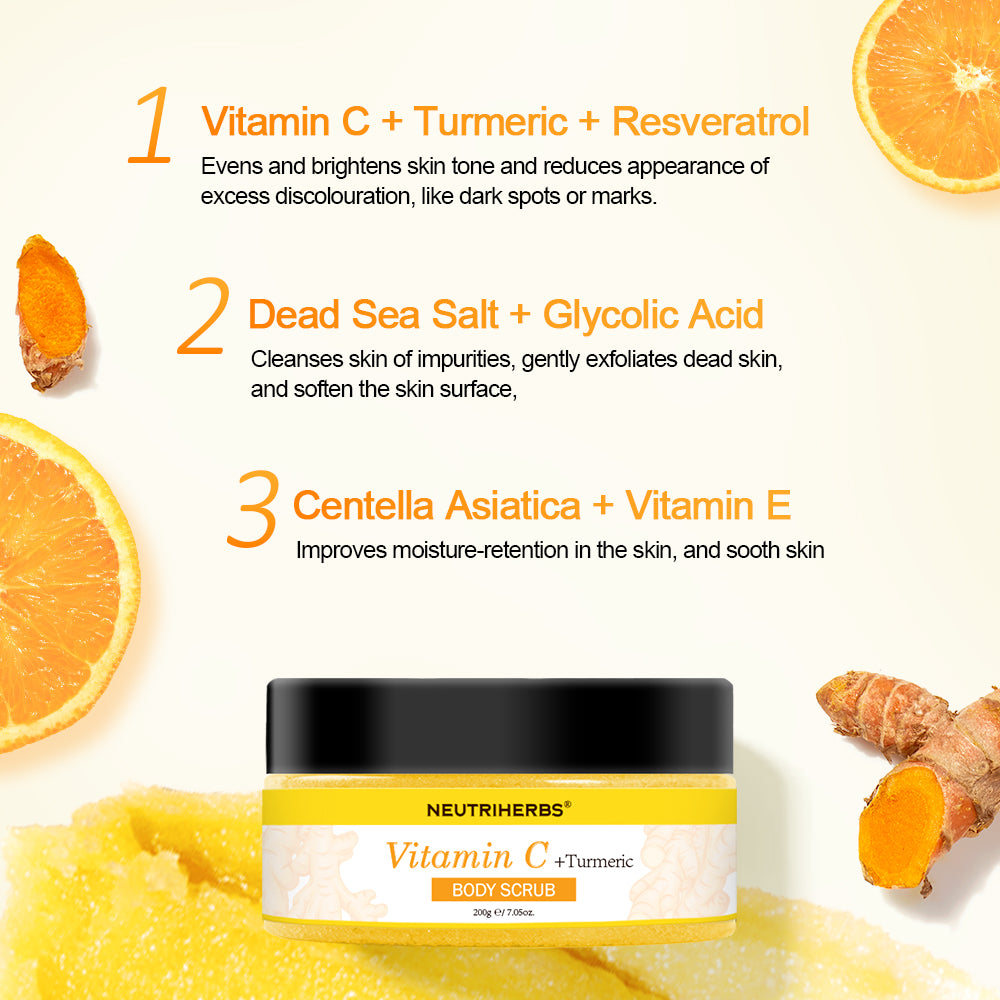 What's Good For?
1. Deeply cleanses, gently exfoliates, and softens skin.
2. Improves tone and reduces dark spots & acne scars.
3. Rejuvenates and creates healthy, even, glowing skin.
4. Helps improve rough skin, pigmentation, and uneven tone.
5. Buffs away dull, dry, flaky skin for renewed softness.
6. Body scrub & wash in one, no need for shower gel, leaving clean and fresh skin.
7. Use on full body area to exfoliate and rejuvenate skin, leaving it smooth and refreshed.
How or When to Use?
How: Apply an appropriate amount on wet skin, massage gently for 2-3 minutes using circular motions starting with legs, then lower body and gradually move towards chest, arms, neck and face. Rinse well with warm water and moisturize skin after exfoliating.

Where: All over the body.

When: Use body scrub once or twice a week after cleansing your skin, preferably in the shower or bath when your skin is wet.

Neutriherbs Tip: For better results, we recommend using Vitamin C Series in your skincare routine!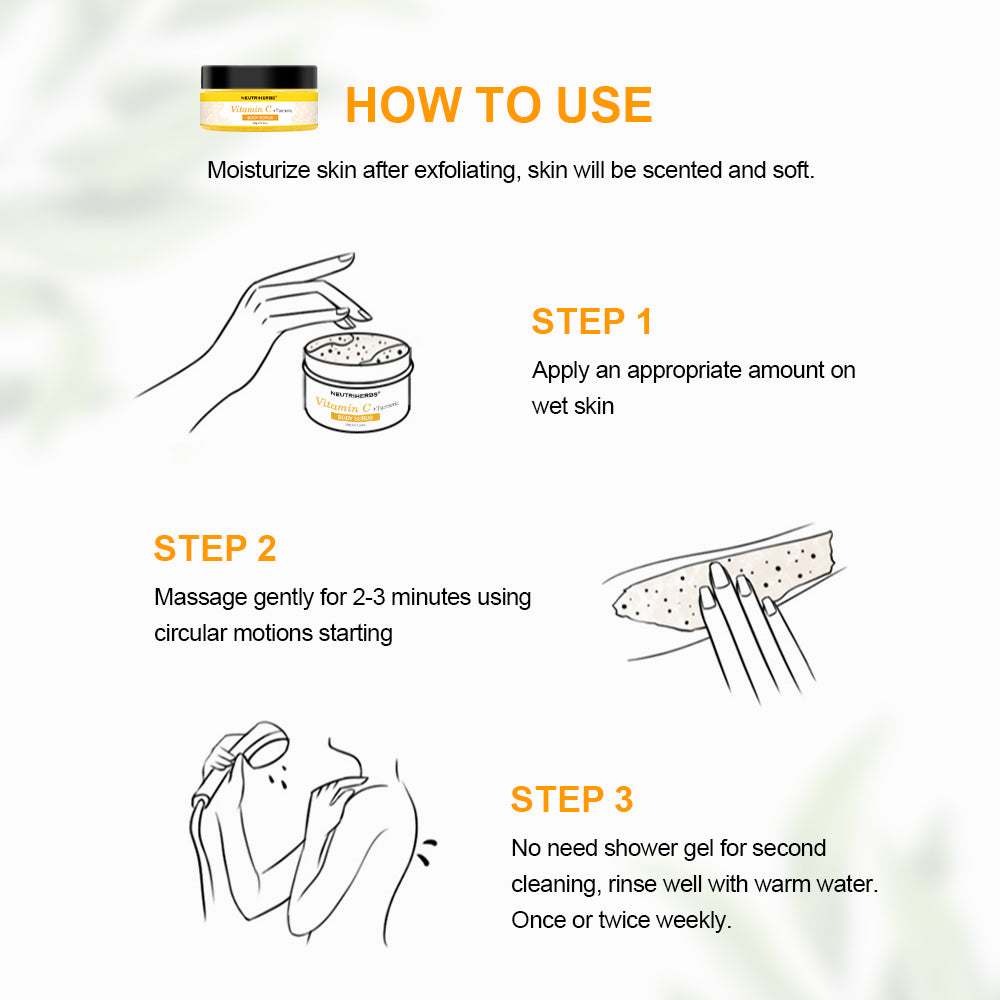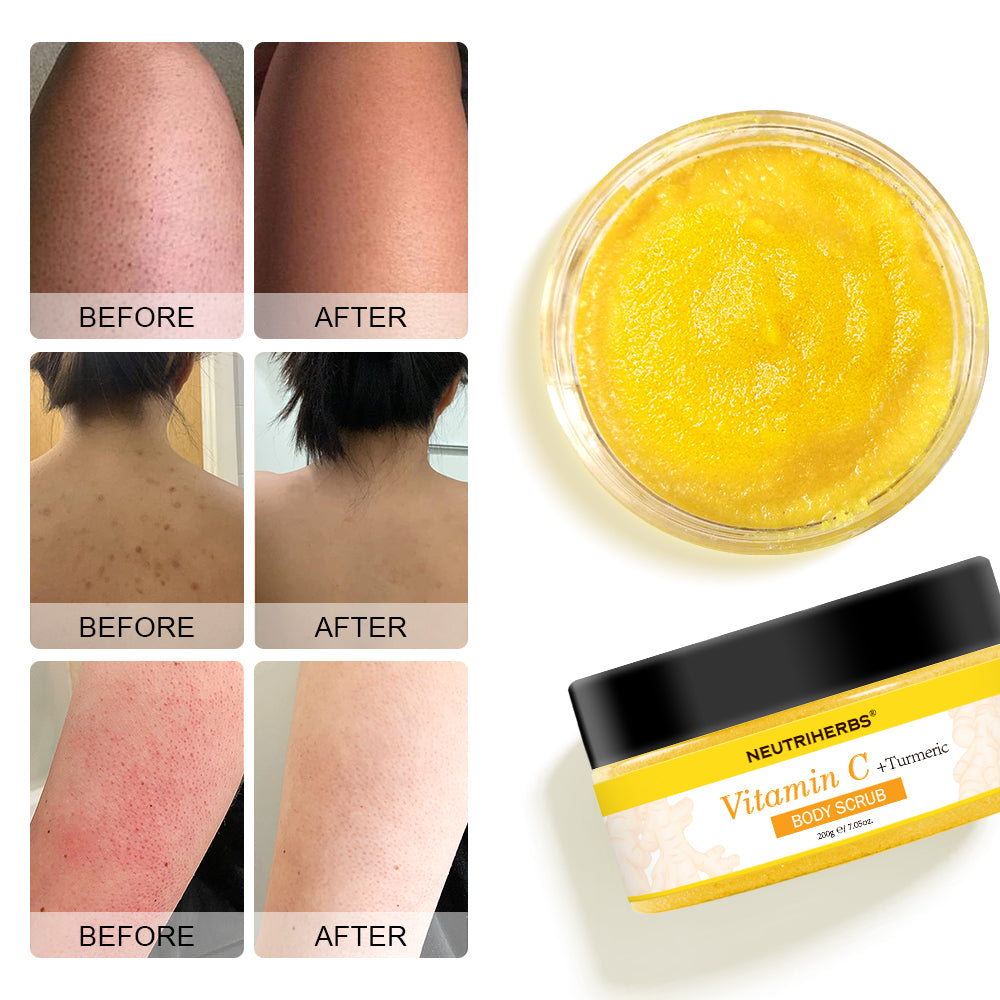 Before and After
1. Brighter complexion
2. Smoother texture
3. Reduced inflammation
4. Improved hydration
BECOME OUR DISTRIBUTOR NOW