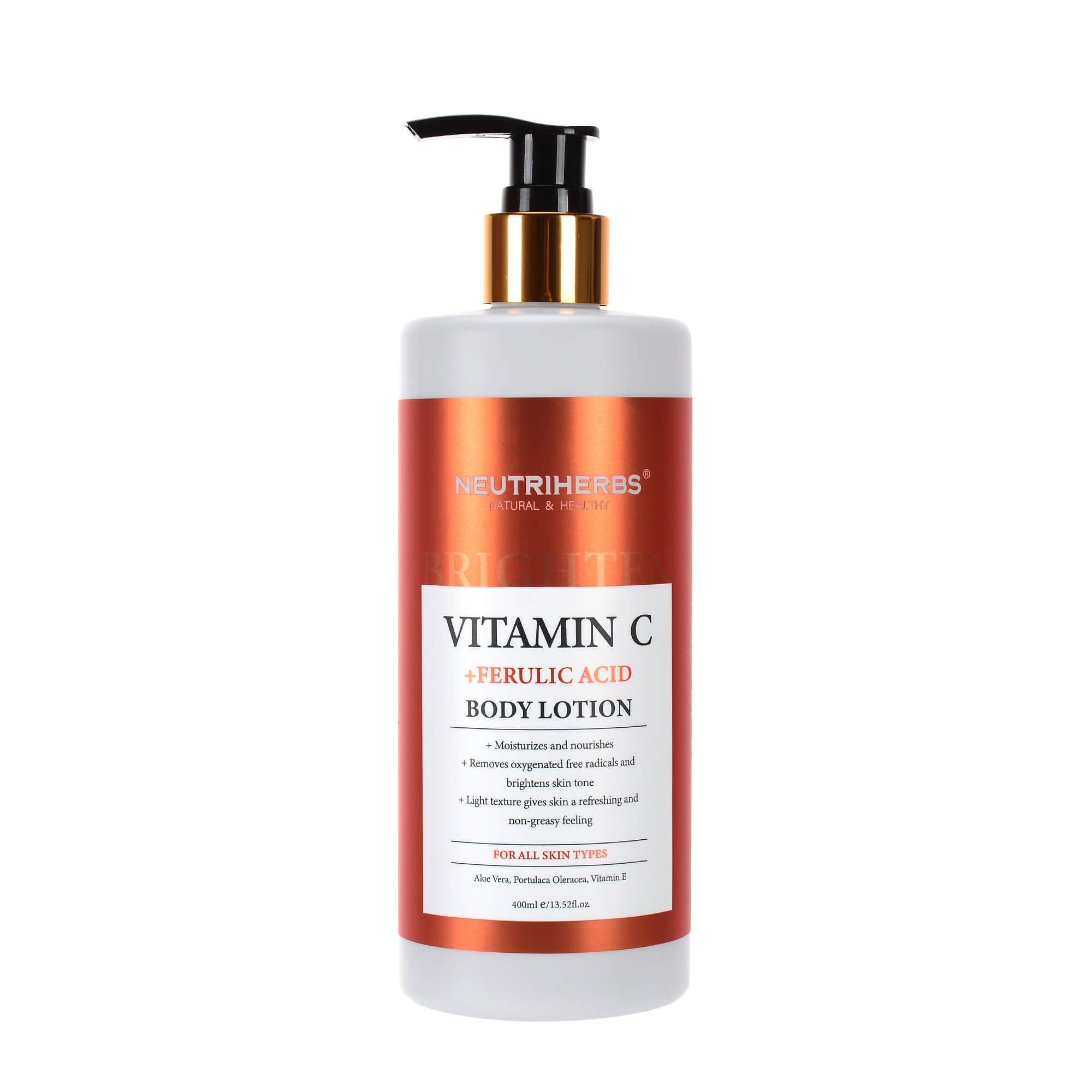 Vitamin C Body Lotion For Brightening With Ferulic Acid
American express

Apple pay

Master

Paypal

Visa
Vitamin C Body Lotion For Brightening With Ferulic Acid | 400ml e/13.52fl.oz.
Neutriherbs Vitamin C body lotion is formulated with powerful ingredients, Vitamin c, and Ferulic Acid, to soothe and nourish the skin.
Vitamin C brightening body lotion can improve efficacy, enhance delivery, and help promote even skin tone and texture while restoring youthful suppleness and firmness.
Ferulic Acid helps to protect overall skin integrity by reducing the development of fine lines, spots, and wrinkles. Formulated with a highly concentrated pure Aloe Vera base, it allows beneficial ingredients to absorb as needed.
Vitamin C Brightening Body Lotion can be absorbed easily without a greasy residue. Developed for all skin types.
Function Of Vitamin C Body Lotion
Brighten: Vitamin C will penetrate deep into skin cells to dilute melanin, remove oxygen free radicals and brighten skin tone.
Antioxidant: A scientific formula (Vitamin C + Vitamin E+ Ferulic Acid) for optimal antioxidant benefits.
Soft Texture: The delicate and soft texture gives skin a fresh and non-greasy feeling.
Multi-nourishing: In addition, its multi-nourishing property can not only relieve skin stress but also clear pigmentation, leaving skin radiant and bright.
*Tips
Our Vitamin C body lotion has a brightening effect, but the actual effect varies from person to person. Just make sure to use sunscreen when you use this lotion.
Cautions:
* For external use only.
* Discontinue using if redness or irritation occurs. Do not ingest.
* Avoid contact with eyes.
* Not to be used for children under 3 years of age.
AQUA, GLYCERIN, MINERAL OIL, STEARYL ALCOHOL, CETYL ALCOHOL, POLYSORBATE 60, SORBITAN STEARATE, DIMETHICONE, ACRYLATES/C10-30 ALKYL ACRYLATE CROSSPOLYMER, ASCORBIC ACID POLYPEPTIDE (VITAMIN C), HYDROXYPROPYL CYCLODEXTRIN, FERULIC ACID, SODIUM HYALURONATE (HYALURONIC ACID), TOCOPHERYL ACETATE (VITAMIN E), XANTHAN GUM, TREMELLA FUCIFORMIS SPOROCARP EXTRACT, PROPYLENE GLYCOL, PORTULACA OLERACEA EXTRACT, BUTYLENE GLYCOL, ALOE BARBADENSIS LEAF EXTRACT, HYDROXYACETOPHENONE, 1,2-HEXANEDIOL, TRIETHANOLAMINE, PHENOXYETHANOL, ETHYLHEXYLGLYCERIN, AROMA.
Share
Key Ingredients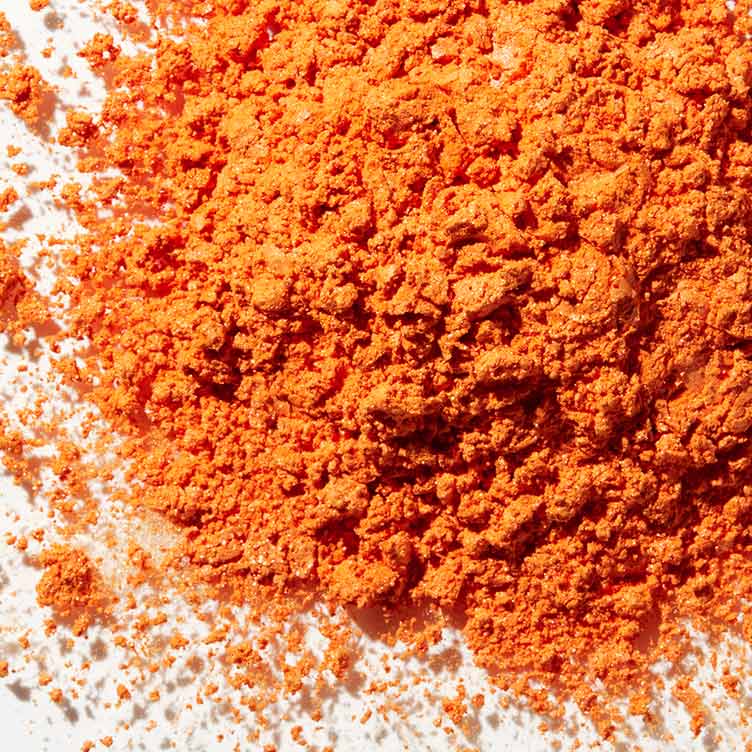 VITAMIN C
Restores skin's youthful radiance and corrects uneven skin tone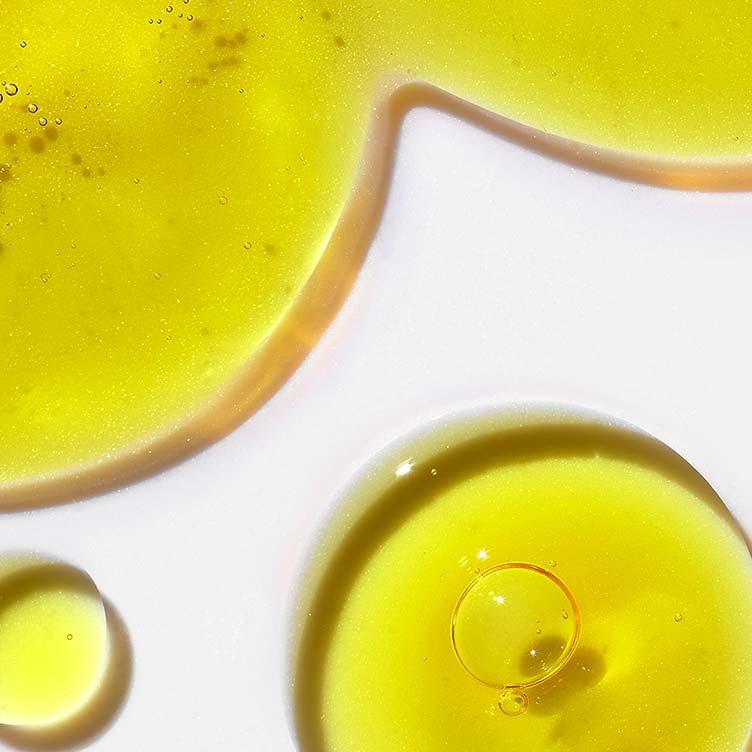 FERULIC ACID
Helps to protect overall skin integrity by reducing the development of fine lines, spots, and wrinkles

VITAMIN E
Keeping the skin metabolism, preventing skin aging plays a vital role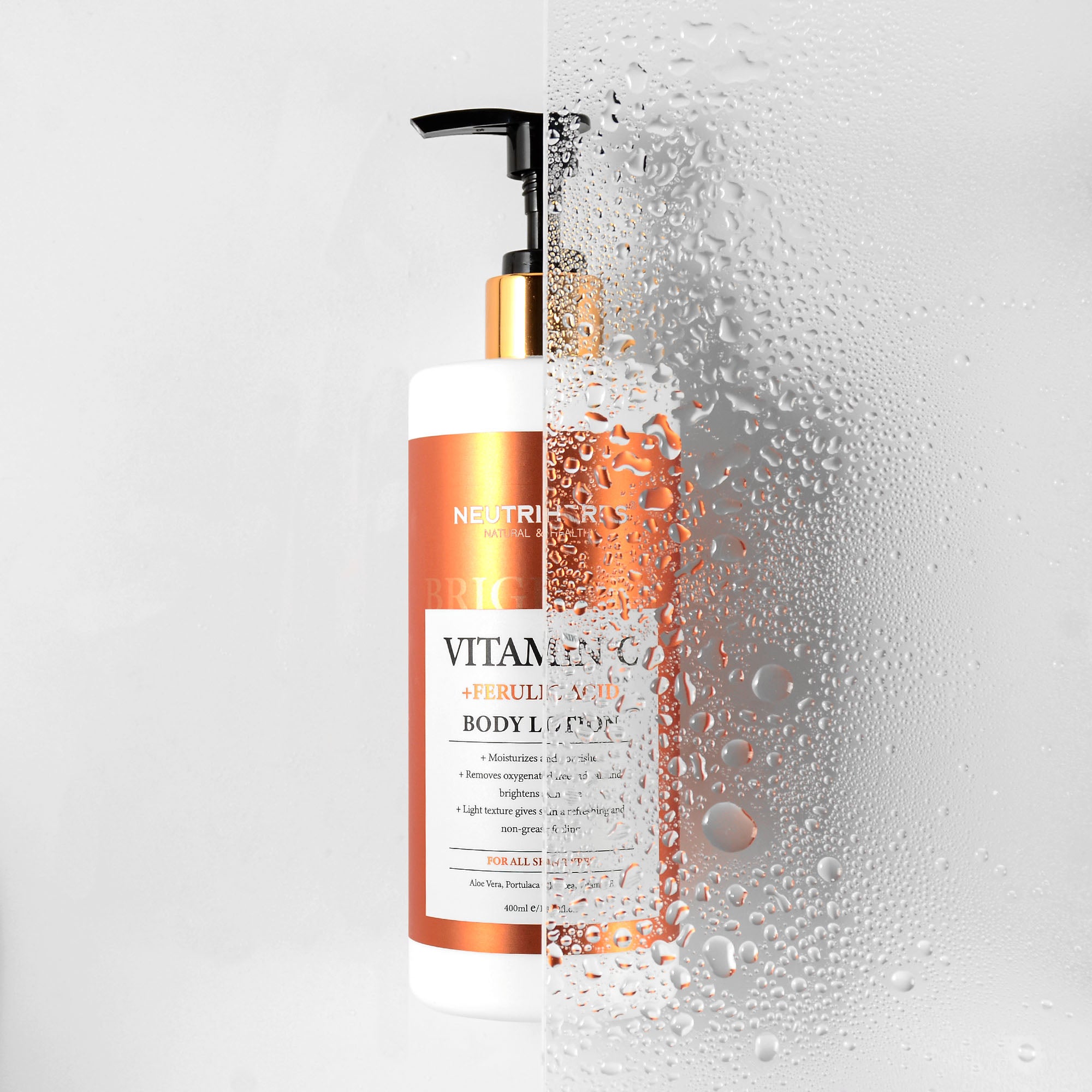 What's Good For?
𝟏. Fast-absorbing, non-greasy body hydration
𝟐. Leaves skin soft, smooth and beautifully moisturized
𝟑. Moisturizes and nourishes
𝟒. Removes oxygenated free radicals and brightens skin tone
𝟓. Light texture gives skin a refreshing and non-greasy feeling
*For all skin types, particularly dry skin; Soften skin with 72hr moisture.
How or When to Use?
𝐇𝐨𝐰: Gently massage this rich, non-greasy vitamin c body lotion into dry areas

𝐖𝐡𝐞𝐫𝐞: Body skin

𝐖𝐡𝐞𝐧: Apply Vitamin C Body Lotion after bath or shower or anytime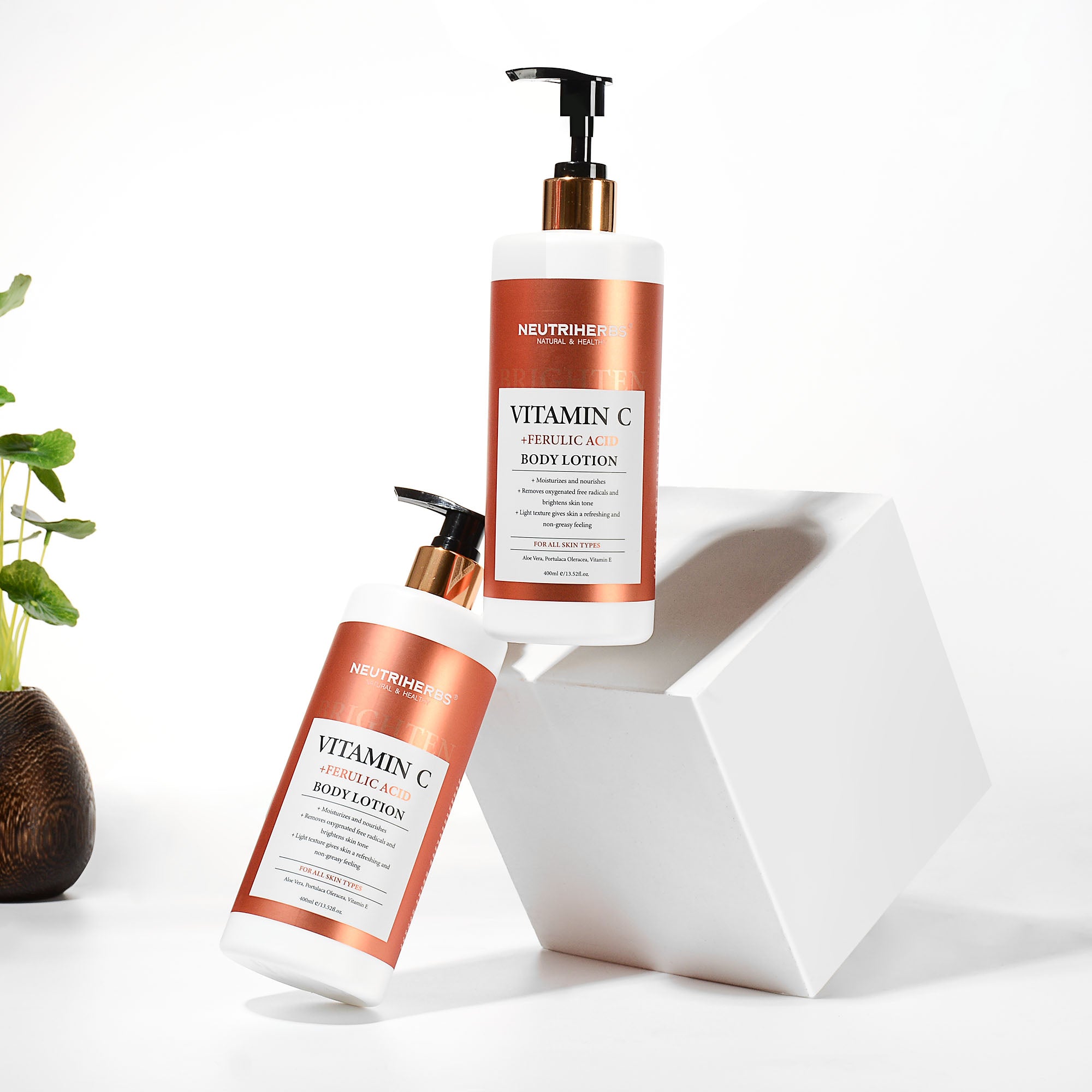 BECOME OUR DISTRIBUTOR NOW