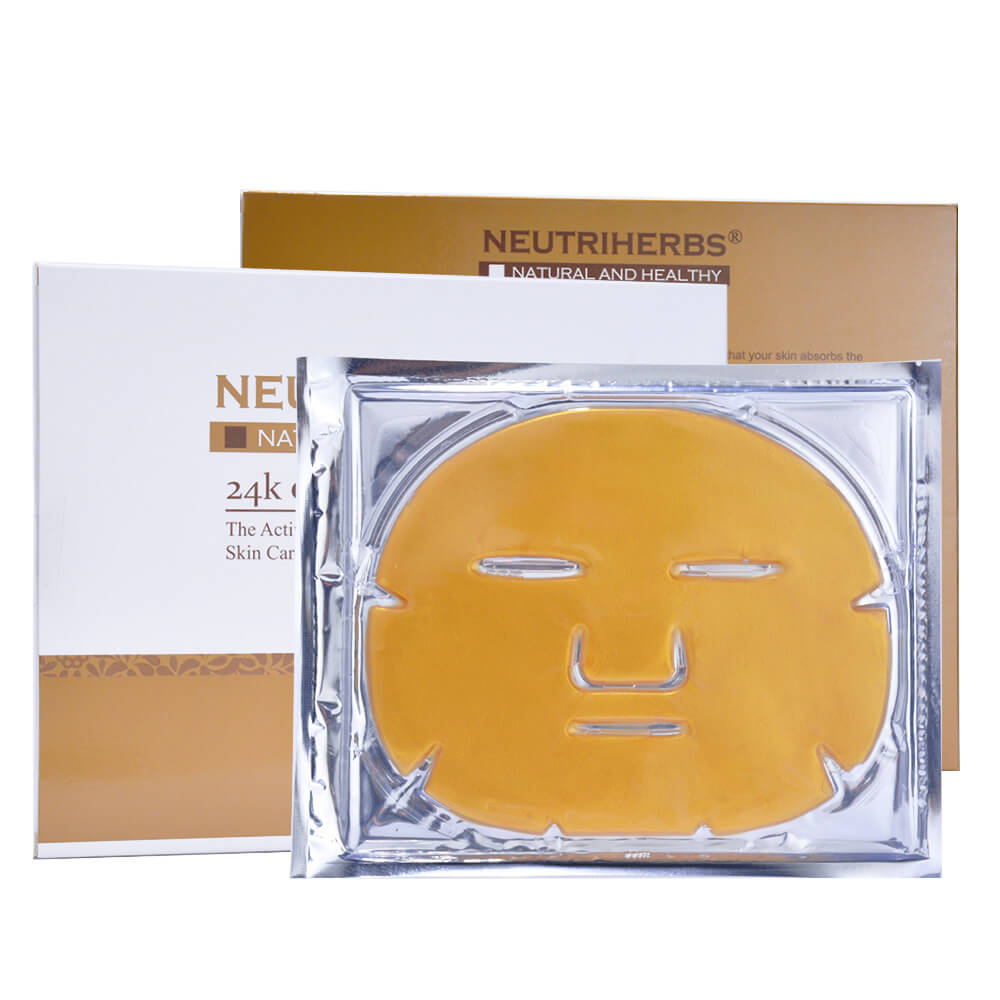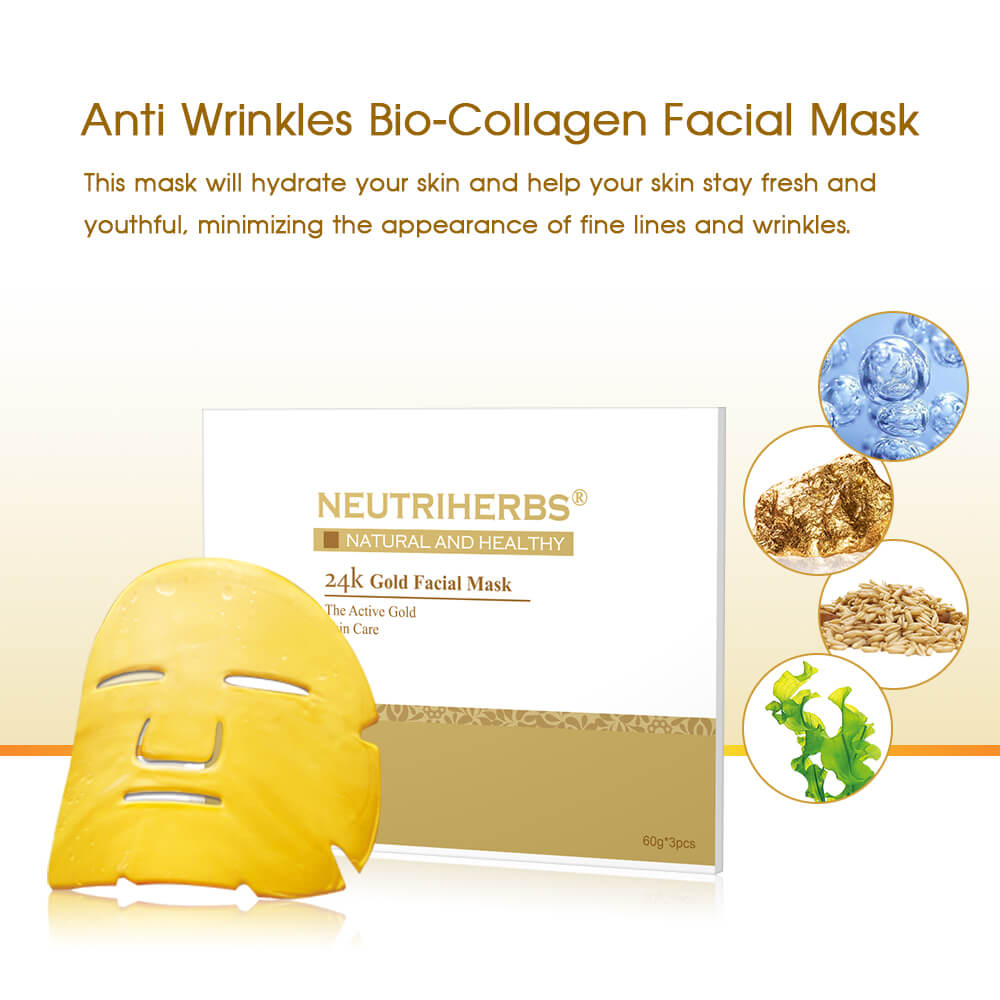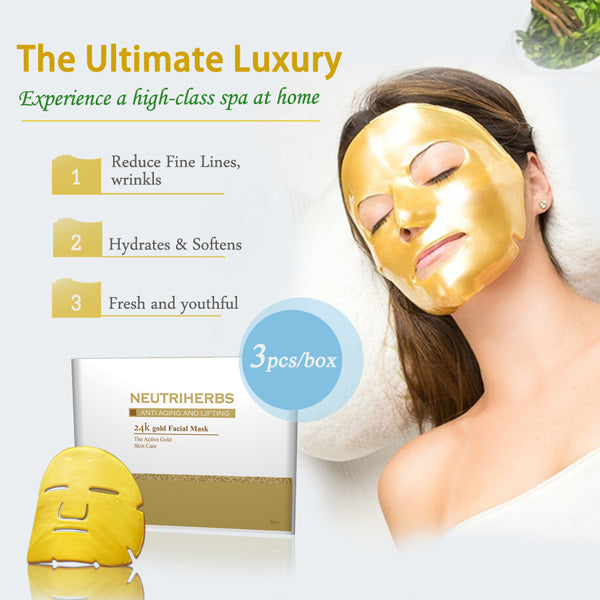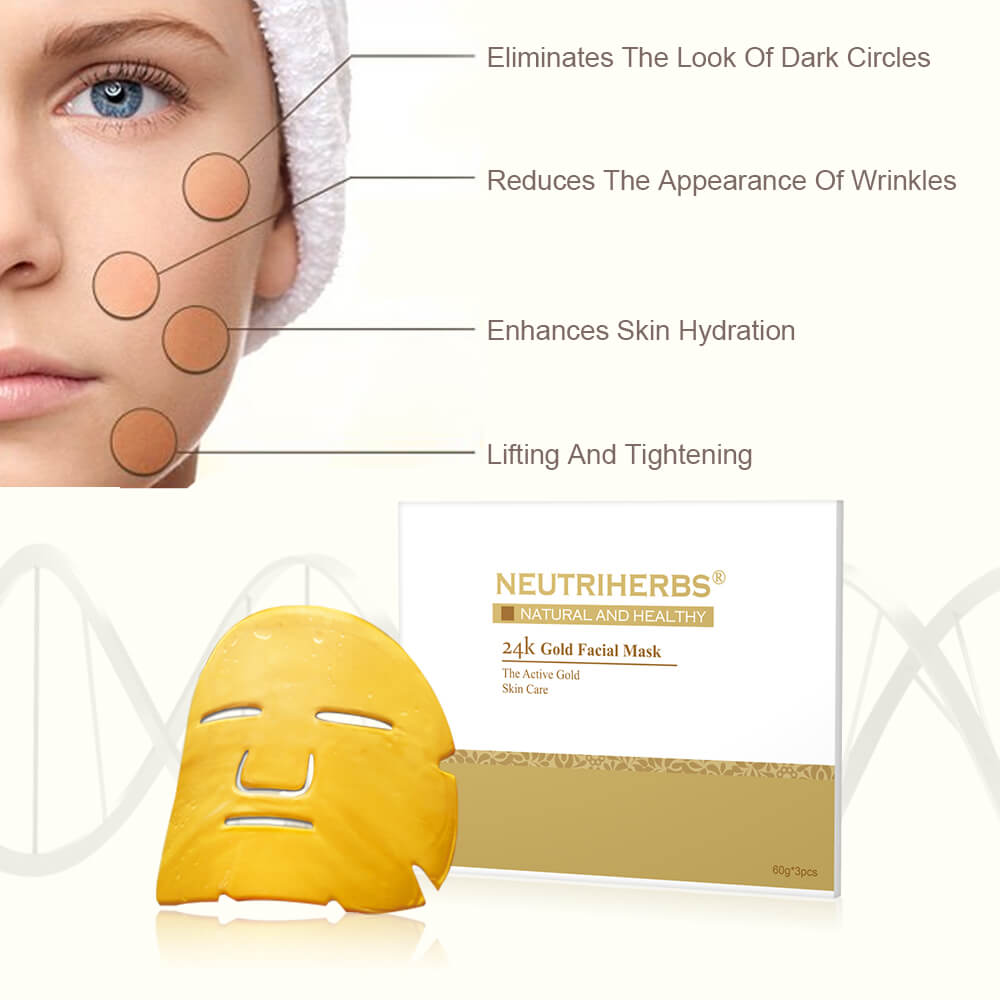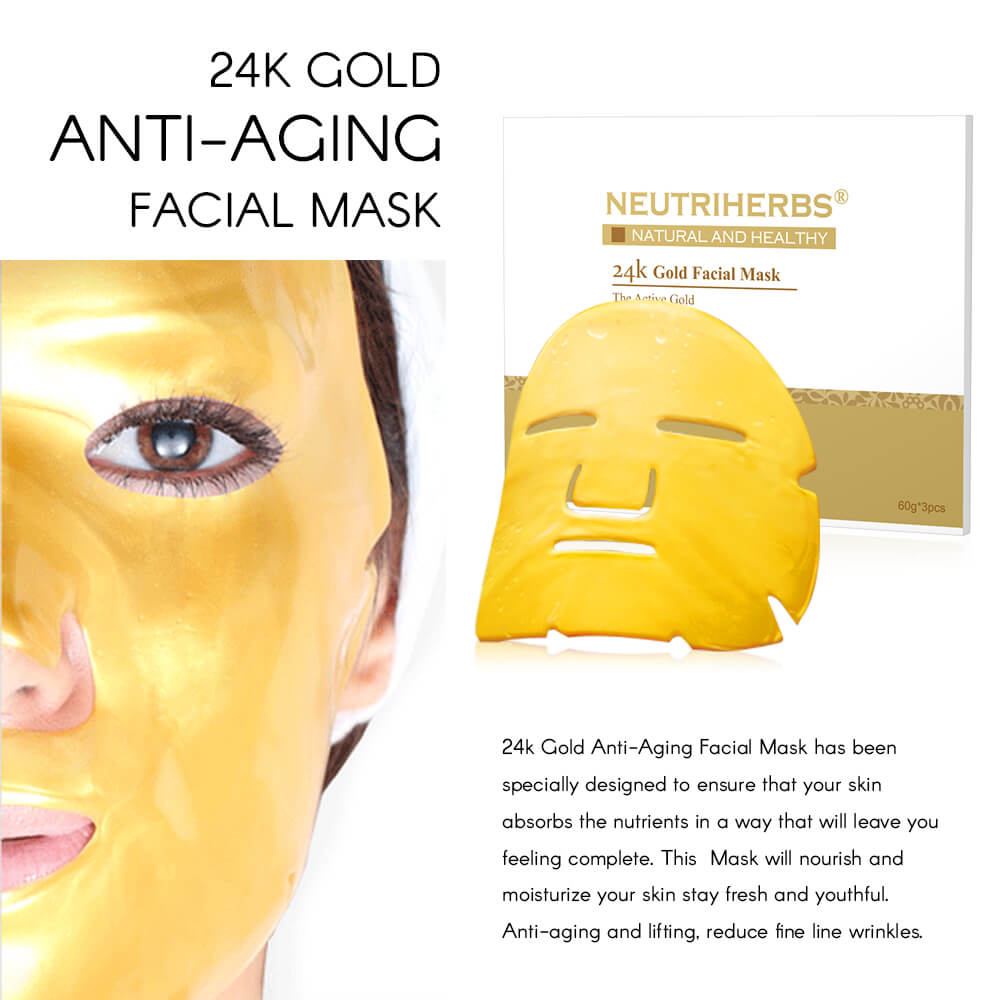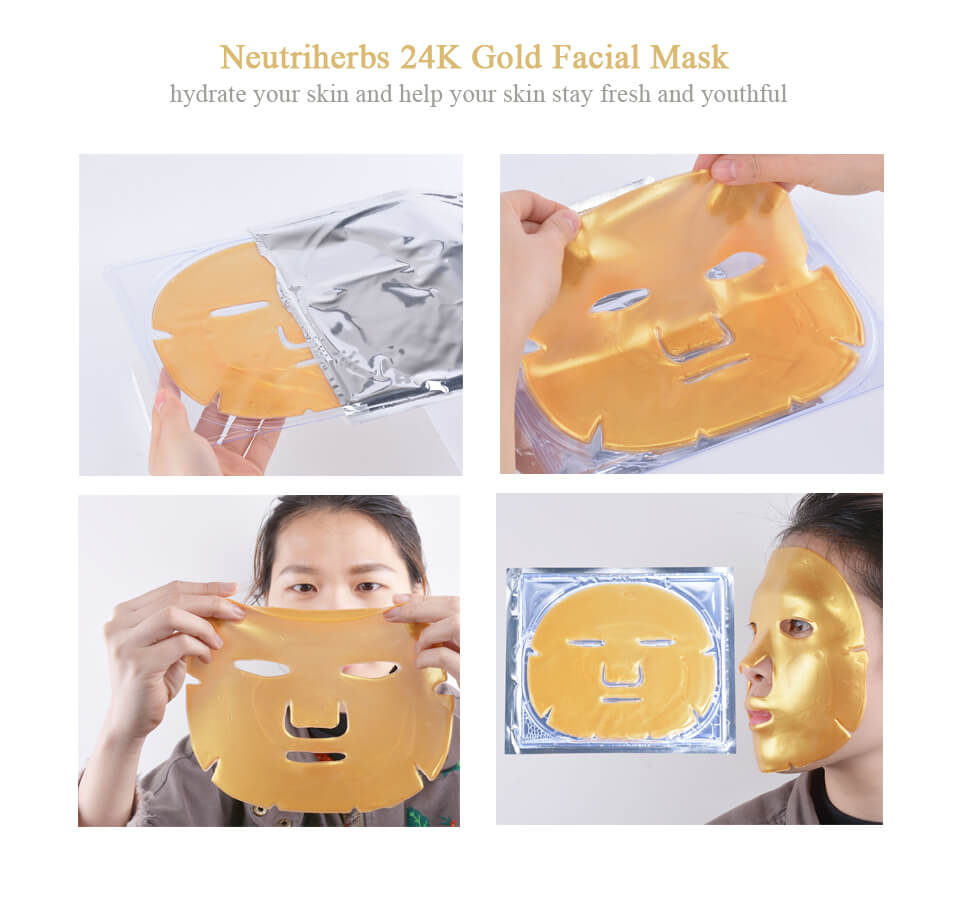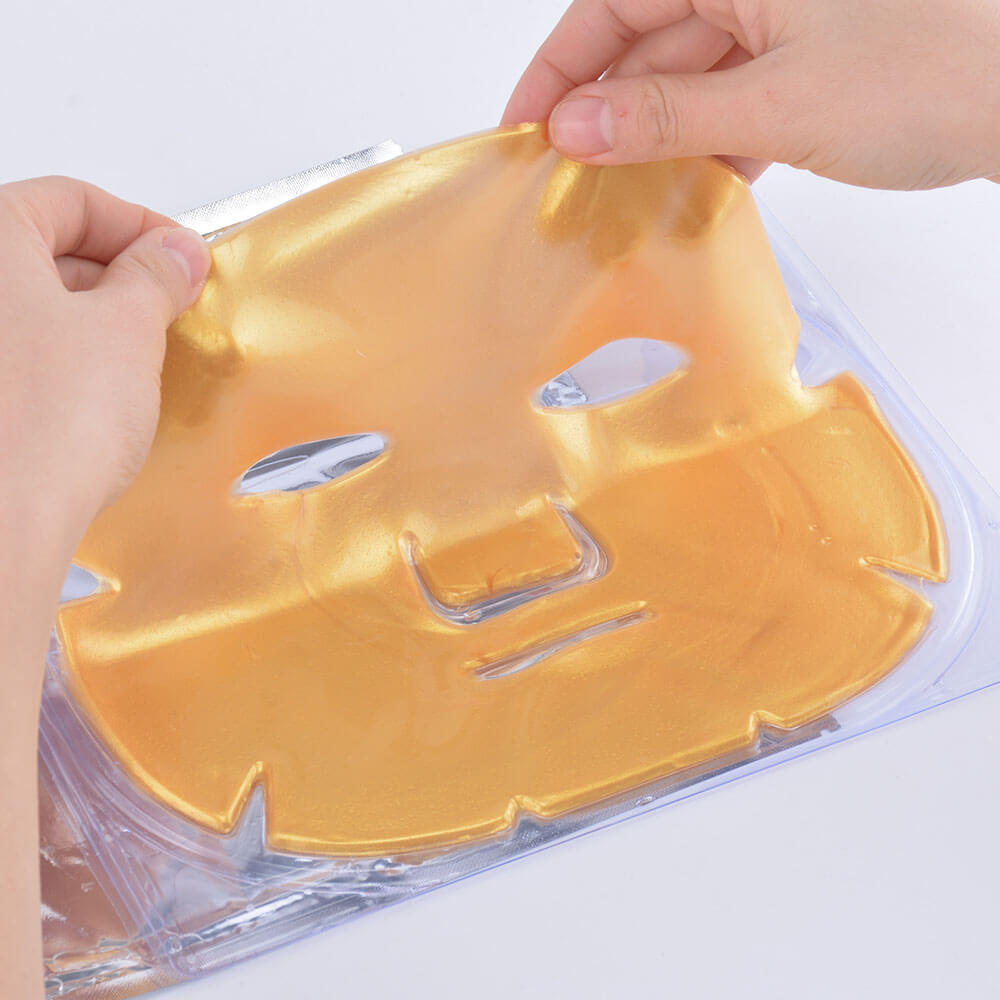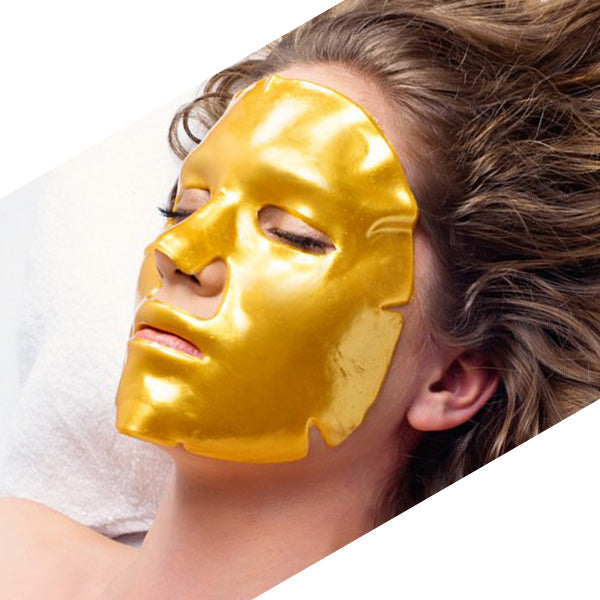 24K Gold Collagen Facial Mask For Anti-Aging And Lifting
American express

Apple pay

Master

Paypal

Visa
24K Gold Collagen Facial Mask For Anti-Aging And Lifting | 60g/pcs And 3pcs/box

Neutriherbs Gold Collagen Facial Mask has been specially designed to ensure that your skin absorbs the nutrients in a way that will leave you feeling completely refreshed. This Gold Collagen Facial Mask will hydrate your skin leaving you feeling fresh and youthful while minimizing the appearance of fine lines and wrinkles.
 Key Ingredients
Gold: Super tiny particle, enrich with minerals, strong penetration, promote skin metabolism, improves skin protein absorption ability.

Trehalose: Moisturizing, smooths fine lines, and wrinkles, preparing aging skin.

Avena Sativa(Oat) Peptide: Antioxidant, Increases skin activity, postpones skin aging, whitening, moisturizing, and reduces wrinkles.

Vitis Vinifera (Grape) Seed Extract: Against free radicals, helps the absorption of Vitamin C and E, Strengthens flexibility, and reduces the UV rays.

Hyaluronic Acid: Moisturize, improve skin's physical condition, prevent skin aging and oxidation, and smooths away wrinkles and fine lines.
Function
Whitening, Moisturizing, Antiaging, Anti-wrinkle.
Increase fiber flexibility and strengthen the nutrient uptake.
Enable the skin to keep fair, radiant, and elastic.
Stimulate cell regeneration and repair.
1. Cleanse the skin and apply gently over face (Breast, Neck, Lip, Eye).
2. Leave for 20-30 minutes.
3. Remove Gold Collagen Facial Mask and gently massage remaining formula on skin. Best used at night before bed.
Cautious:
* Keep away from direct sunlight. Stock in cool, dry place.
* Advice direct touch with eyes. If touch occurs, remise with clean water.
* Keep away from Child

AQUA, GLYCERIN, PROPYLENE GLYCOL, GOLD, GLYCERYL STEARATE, HYDROLYZED COLLAGEN, VITIS VINIFERA (GRAPE) SEED EXTRACT, PRUNUS DOMESTICA SEED EXTRACT, AVENA SATIVA(OAT) PEPTIDE, TREHALOSE, RETINOL(Vitamin A), HYALURONIC ACID, POTASSIUM SORBATE, PARFUM.
Key Ingredients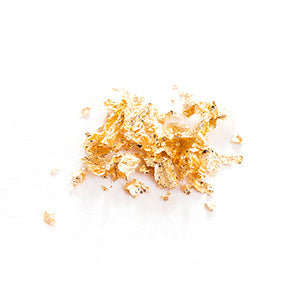 GOLD
Promotes skin metabolism and leaves skin radiant and youthful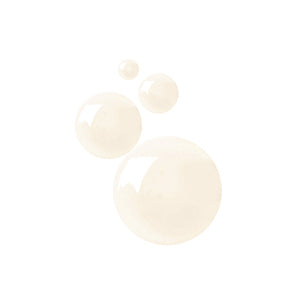 COLLAGEN
Lifts the skin and reduces wrinkles for softer, smoother skin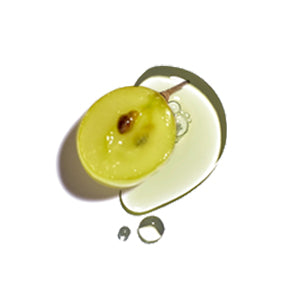 GRAPE SEED EXTRACT
Escalates cell turnover and collagen synthesis, which helps your skin to stay elastic and healthier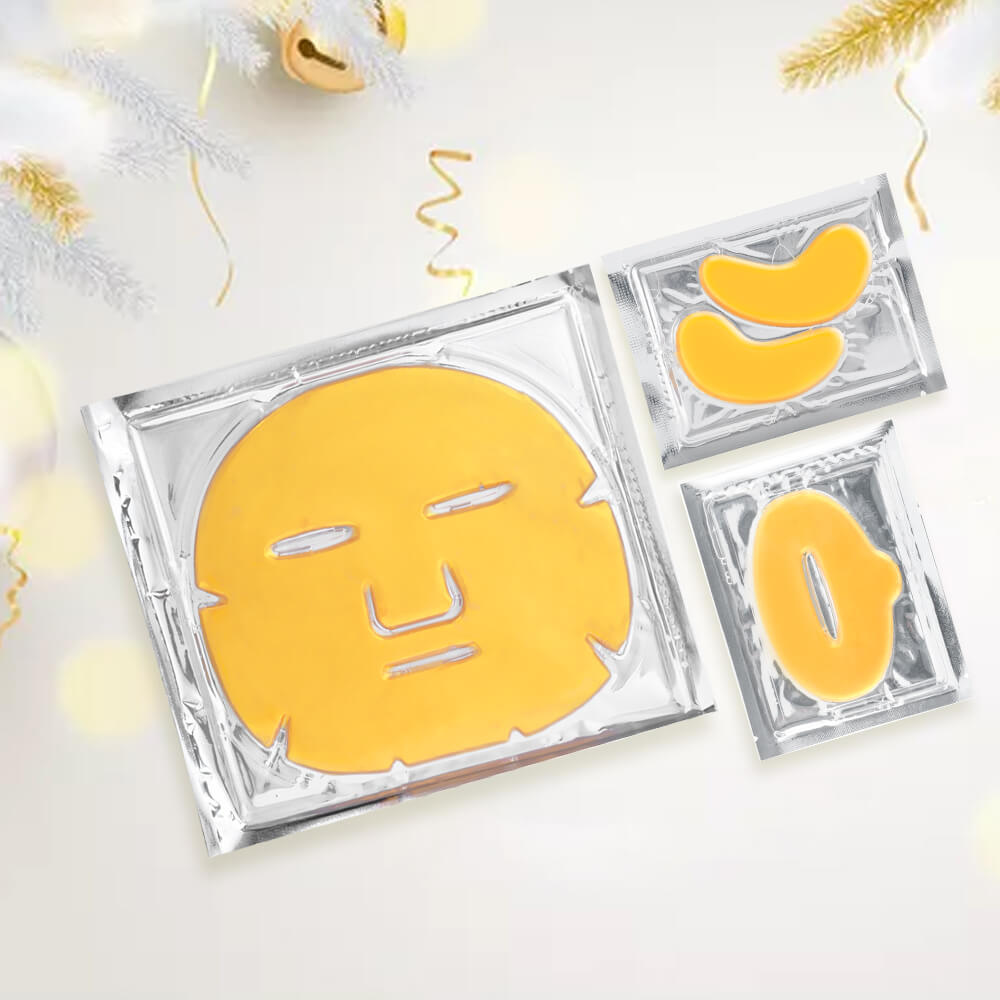 What's Good For?
-Deeply Hydrates and rejuvenates the skin

-Visibly improves skin's elasticity

-Prevents premature skin aging, reduces fine lines & wrinkles

-Boosts a more radiant complexion.

-For all skin types

How or When to Use?
-Cleanse and dry your face thoroughly.
-Gently apply the gold collagen facial mask to your face. Leave the mask on for 20-30 minutes.
-Remove the mask and gently massage remaining essence onto the skin. No need to rinse after the oil is massaged in.
-Best used at night.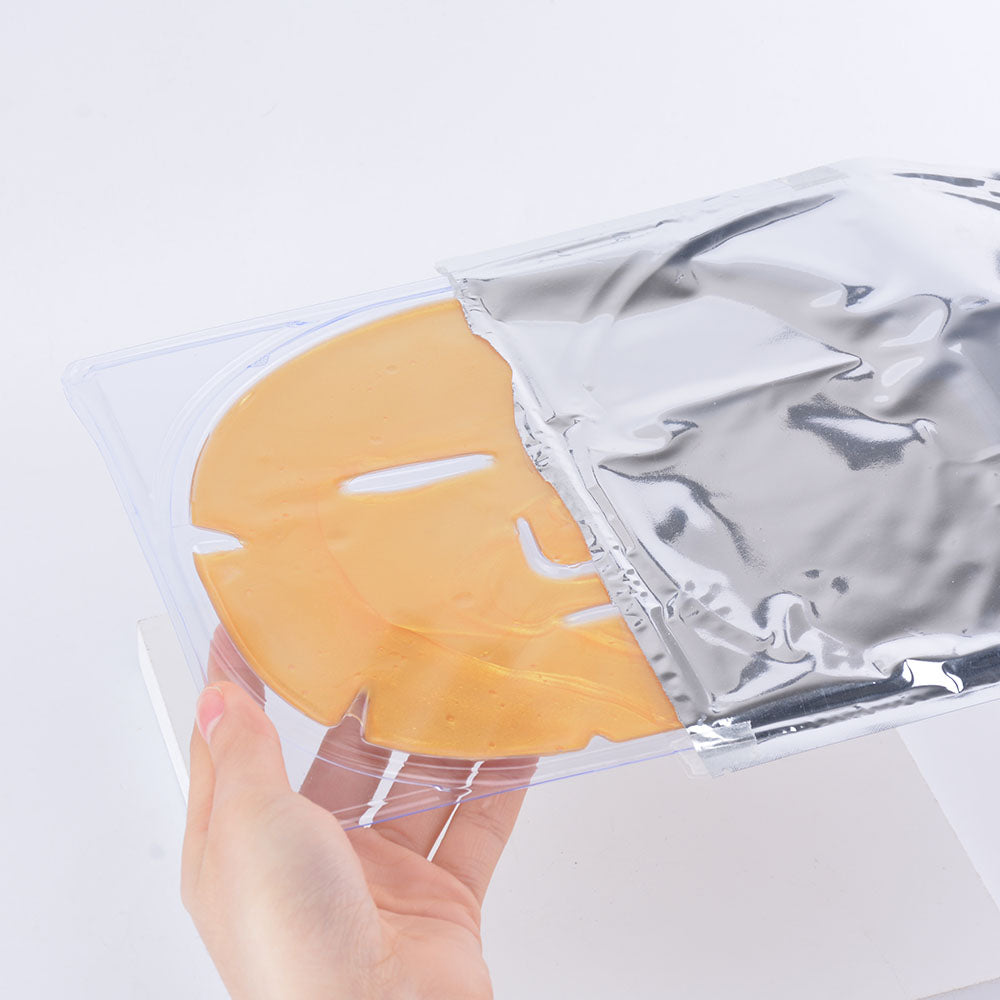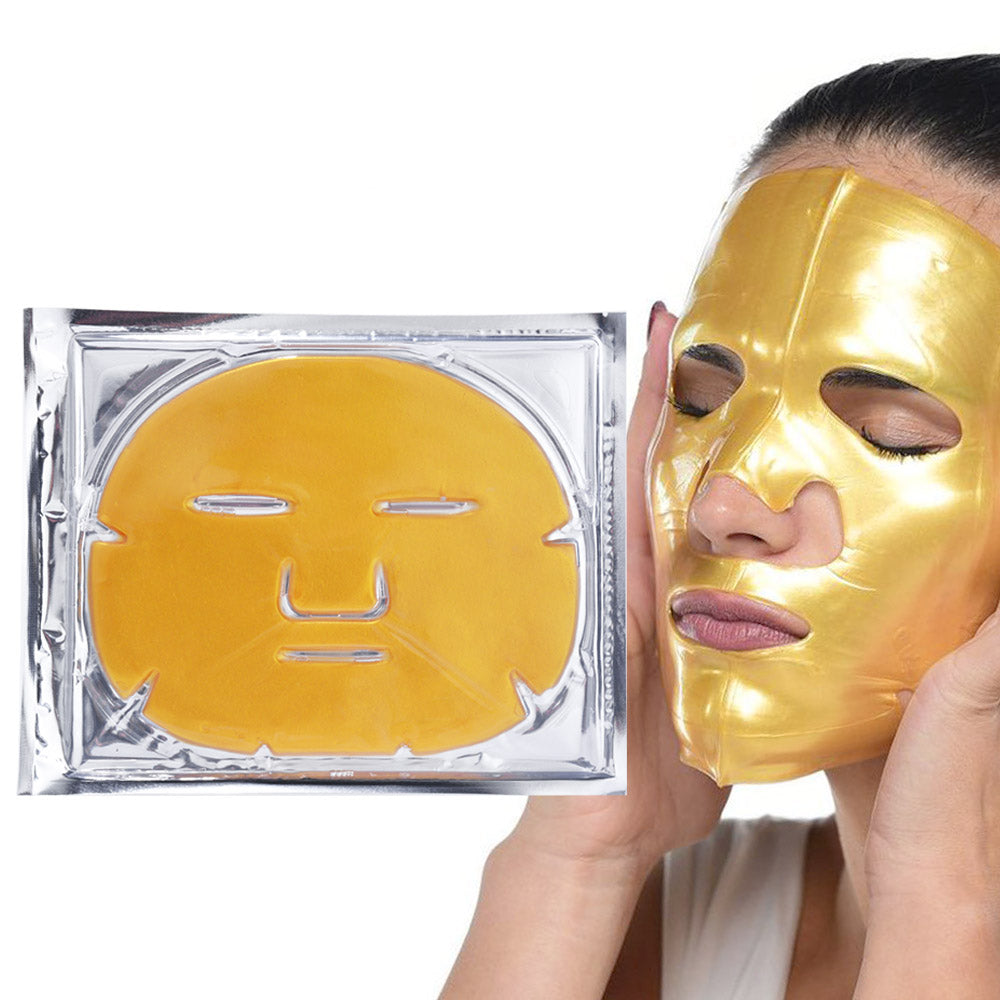 Before and After
92% firmer skin observed after 8 weeks*
95% lifting effect observed after 8 weeks*
98% said skin's elasticity was improved***

BECOME OUR DISTRIBUTOR NOW